At Tree House, we believe every healthy and treatable cat deserves to have a forever home – including cats with special needs and chronic illnesses such as Feline Leukemia Virus (FeLV).
First FeLV+ Adoption Program in Chicago
So, What is Feline Leukemia Virus
Many people are unfamiliar with FeLV, and, sadly, many cats who have the disease are euthanized due to a lack of adequate resources or knowledge. FeLV positive (FeLV+) cats can live happy and healthy lives even though their lives might be shorter than an FeLV negative cat. Tree House knew there had to be a better way, so we created a permanent FeLV adoption room at our new shelter.
Tree House became the only shelter in Chicago, and one of the few in the country, with a dedicated adoption program for FeLV+ cats. Since that time, we have become a resource for shelters throughout the Midwest, and many FeLV+ cats have been transferred to Tree House who might otherwise have been euthanized.
It's Not Cancer
Contrary to some beliefs, FeLV is not cancer. It is a virus that breaks down a cat's immune system, making the cat more susceptible to illnesses that otherwise do not impact healthy cats. These secondary illnesses are what typically lead to an FeLV+ cat's death. While the estimated lifespan of a cat with FeLV is three to four years, we've had many FeLV+ cats who have lived much longer.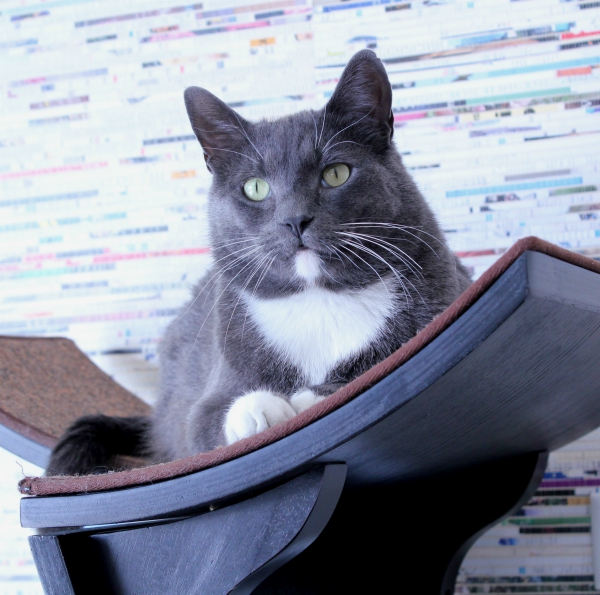 Sherlock is a great example of a cat who is doing very well with FeLV. A burly cat with a great personality to match, Sherlock is a loveable guy who was transferred to Tree House from another shelter that lacked the resources to help him. He is a healthy and happy FeLV+ cat who is now four years old.
Curious and silly, Sherlock loves people, and it was a wonderful day when Morgan and Katherine came to Tree House for a visit and gave this great guy a home. After visiting several other shelters, Katherine shared, "I knew the minute I walked into Tree House that this was the place for me." She returned that weekend with her husband. They were open to learning more about FeLV – it is always so heartwarming when potential adopters are willing to give cats with special needs a chance and take the time to learn more about FeLV.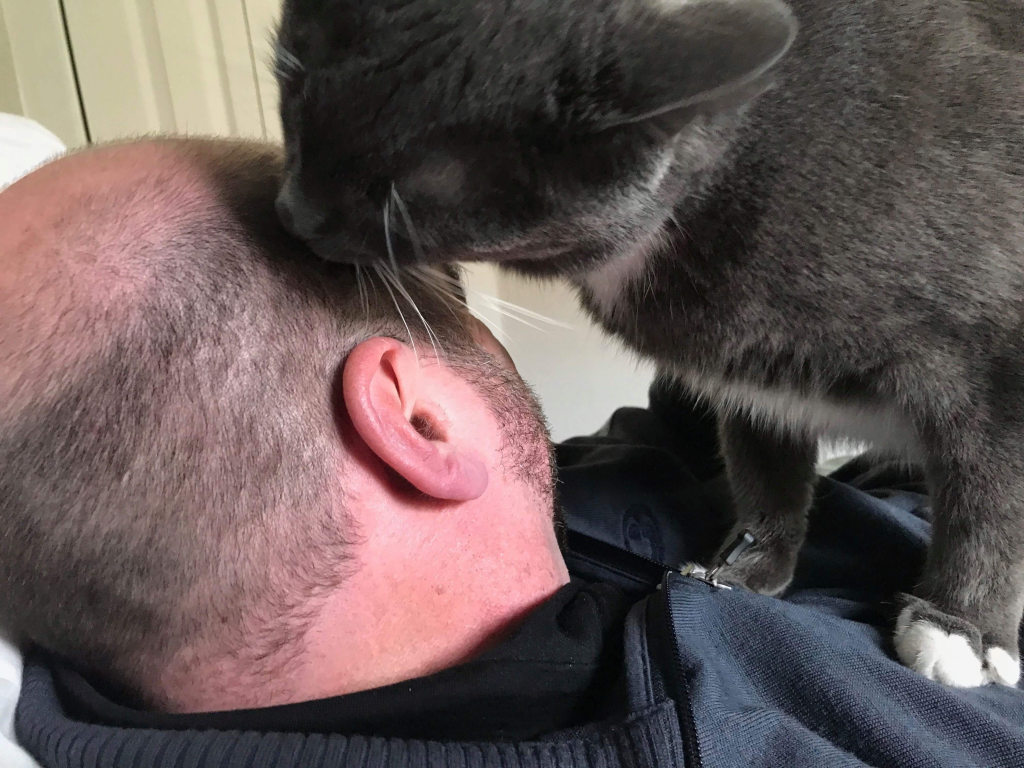 Sherlock loves his new "cat daddy".  After talking to our adoption counselors, Katherine and Morgan felt that it was something they could easily handle, "Every kitty in the FeLV+ adoption room would have been an option for us, but Sherlock was ours from the beginning. [It was] love at first sight."
Sherlock is settling into home life very well. "We are very grateful to Tree House for taking such great care of Sherlock and helping us find him."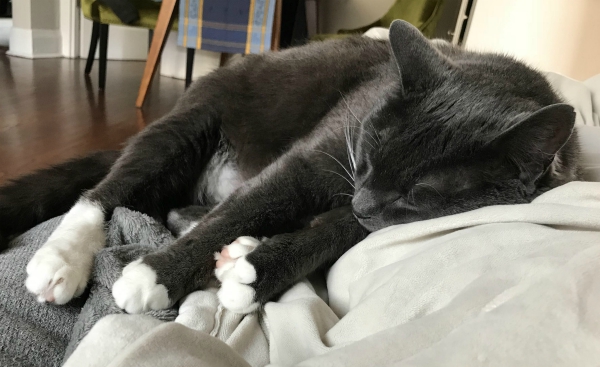 Sherlock likes to sit on his quilt and watch the traffic go by. He loves all his toys – for about three minutes, and then it is time to clean himself and pretend he was not just acting the goof. He is a constant companion – on the couch, in the bed, and right by the chair at mealtimes.
Giving FeLV+ Cats a Second Chance
We are thrilled for Katherine, Morgan, and Sherlock. We hope this story inspires others to learn more about cats with Feline Leukemia Virus and to consider adopting them. These cats deserve a home, and while the time you have with them may be less, the love and joy they bring will fill your heart for much longer!
Support our efforts to help FeLV+ cats and the many other cats who struggle with illness, injuries, and chronic medical conditions.