On July 1st, we had our soft opening at our new facility and began adoptions. Since then, we have been overjoyed with the number of visitors and have adopted out more than 150 cats! 
An Opening Day Adoption – Teddy Finds a Home
We are excited to share the happy ending story of Teddy Flood (now named Farooq). Teddy has had a rough journey in his life, but on July 1st, the first day of Tree House's soft opening, things changed. Steve Browne and John Verkleir came to Tree House for a visit and joyfully decided to welcome Teddy into their family.
Months of Healing
Teddy was originally found on the streets and admitted to CACC (Chicago Animal Care and Control) before we transferred him to Tree House. We don't know what might have happened to Teddy before he was rescued; however, upon arrival at our clinic, it was clear that this gentle guy was suffering. Teddy was battling a URI (upper respiratory infection) and severe diarrhea.
We placed Teddy in a foster home to give him time to heal; yet even with our ongoing care and efforts, his digestive condition endured. We knew his health would be seriously compromised if the diarrhea continued. After three long months and much trial and error, we determined that Teddy was suffering from a food allergy. Finally, his health began to improve.
Anticipation
With his rough past behind him, a very special day awaited Teddy. Steve and John were eagerly anticipating our opening. Big supporters of animal rescue, they have adopted three cats from Tree House in the past twelve years. They lost their beloved cat Billi last summer, and Rajiv, their remaining Tree House cat, was a solo kitty who needed a new friend. When Steve and John met Teddy at Tree House, he was gently interacting with another cat in one of our new cat adoption rooms – they immediately knew he was the one.
Besties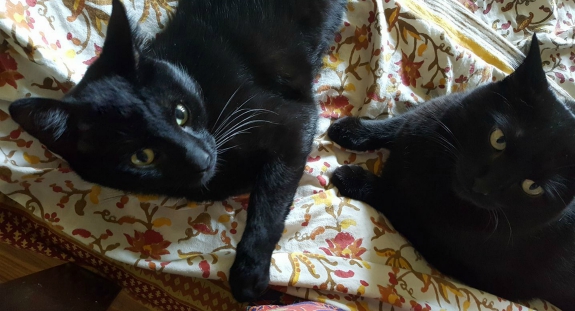 (pictured: Farooq and Rajiv – they could be twins)
Teddy (Farooq) has since integrated well into the family. Steve shares that Farooq, "loves to sleep on our legs" and "loves a good face stroking. He and Rajiv get along very well. [The two boys] play chase with one another, watch the birds together, and sleep and sing together." Rajiv has also taught Farooq a couple of things about home life – they are now "much more vocal in the kitchen and quite a chorus at mealtime," commented Steve. "We think it is quite funny."
We are so grateful that Steve and John opened their hearts and home to Teddy and for this wonderful, happy ending. We are glad that these two beautiful cats have each other and a loving home and wish the entire family years of joy together.