We are happy to be able to share an adoption update about two easygoing cats, Morris and Sammy, who were recently adopted together.
Liang and her husband Casey visited Tree House, "determined to adopt that day after the recent death of our beloved cat Mieville." Casey had adopted Mieville many years ago before meeting Liang. Mieville was Feline Immunodeficiency Virus Positive (FIV+) and had 11 good years in his forever home, "We attributed his calm, kind demeanor to the wonderful socialization he received at Tree House. When we were ready to fill our home again, we knew we had to return to Tree House at their amazing new location."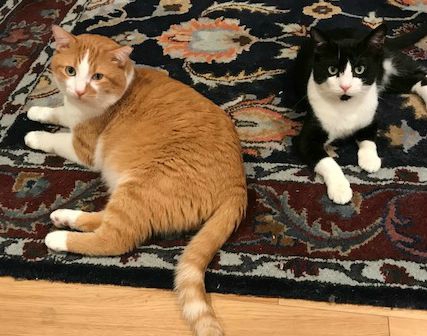 Now fondly referred to as The Beefy Boys, these two have taken over their new home. These lovable guys can be found wrestling each other, lazily lounging around their new home, or meowing ferociously — begging to be fed.
Liang shared their experience of meeting Morris and Sammy at Tree House, "The Saturday of adoption day, both of us were wracked with nerves. We were so excited, but had no idea what to expect! All we knew was that we would shortly be growing our family by two. Casey and I both agreed that we wanted to adopt adult cats and were open to cats with special needs. Sammy was in one of the first cat adoption rooms we visited. He approached us right away and perched gracefully on a cat condo. His sleek, tuxedo coat and cute black goatee drew our attention, and he loved rubbing his face and neck against our hands. [He had] a shy demeanor, and the most adorable "elevator butt"! He was instantly one of my favorites."
They continued visiting cats at our shelter when, "This beefy orange and white, 15 lb. furball strutted into the middle of the adoption room. We loved how he [Morris] seemed like a luxurious boy, commanding to be petted. Despite his big 'tude', he was also very gentle and welcoming. We considered how these two cats would get along and decided to take the chance."
The two cats love to wrestle and hang out together. After arriving in their new home, "By the end of the first night, Morris was walking around like he owned the place. Sammy was hesitant and slowly came out of his shell over the next several days. Introducing the two to each other was  a breeze — they nose-booped and the rest is history!"
"Sammy and Morris have brought so much joy into our lives. We will continue to adopt from Tree House for the rest of our lives as they have truly helped us in so many ways!"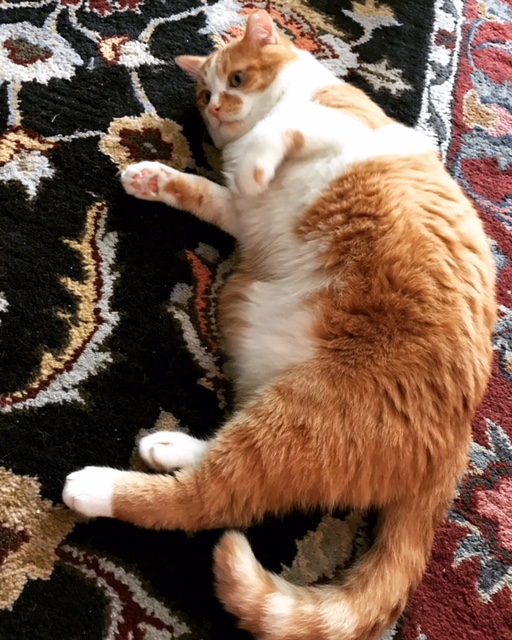 Morris was obese for his size when he arrived at Tree House. We are glad to learn he has continued to slim down in his new home, "his svelte new figure weighs in at around 13 lbs!"
We are so grateful to Liang and Casey for giving these beauties a loving, forever home together and for their wonderful support of Tree House.
You can help a homeless cat by adopting or donating to help us save more lives. Give to Tree House >>