We have a heartwarming update about a cat named Ella. This stunning beauty was found roaming the streets and brought to Tree House. Coming off the street and settling into shelter life can be challenging, and Ella's fears and anxieties came out in the form of overstimulation. Shelter life was difficult for Ella. She was hesitant and cautious at Tree House and liked to have her space. Sadly, this made it hard for individuals to get to know the sweet cat underneath her fears…until one fateful day when she met her new family.
Addie (12 years old) and her mom, Liz, began visiting Tree House when Addie was just 7 years old. Liz shared that Addie struggled with anxiety, and the pair began volunteering. Being at Tree House and with the cats and kittens was very positive in helping Addie learn how to work with her "everyday worries". For several of her birthdays, this compassionate little girl conducted collections at her parties to raise money for the cats in lieu of gifts.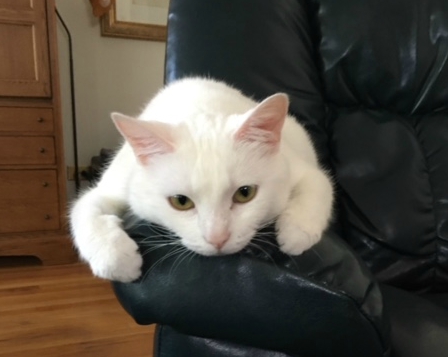 "Ahhh…life is so good in a home!"
A few months ago, after losing their cat Teddy after 22 years, Liz and her husband, Eric, along with Addie decided to check out Tree House's new shelter – but with the agreement that there would be no adoptions because Eric wasn't quite ready.
The family met Ella and were provided with some guidance on how to approach her to help avoid overstimulating her. However when they entered her room, "Ella walked right up to Eric and sat down in front of him. We hung out for a little while, then Addie and I moved on to the next room, but Eric stayed with Ella. Needless to say, when we left, we all decided we needed to spend more time with Ella."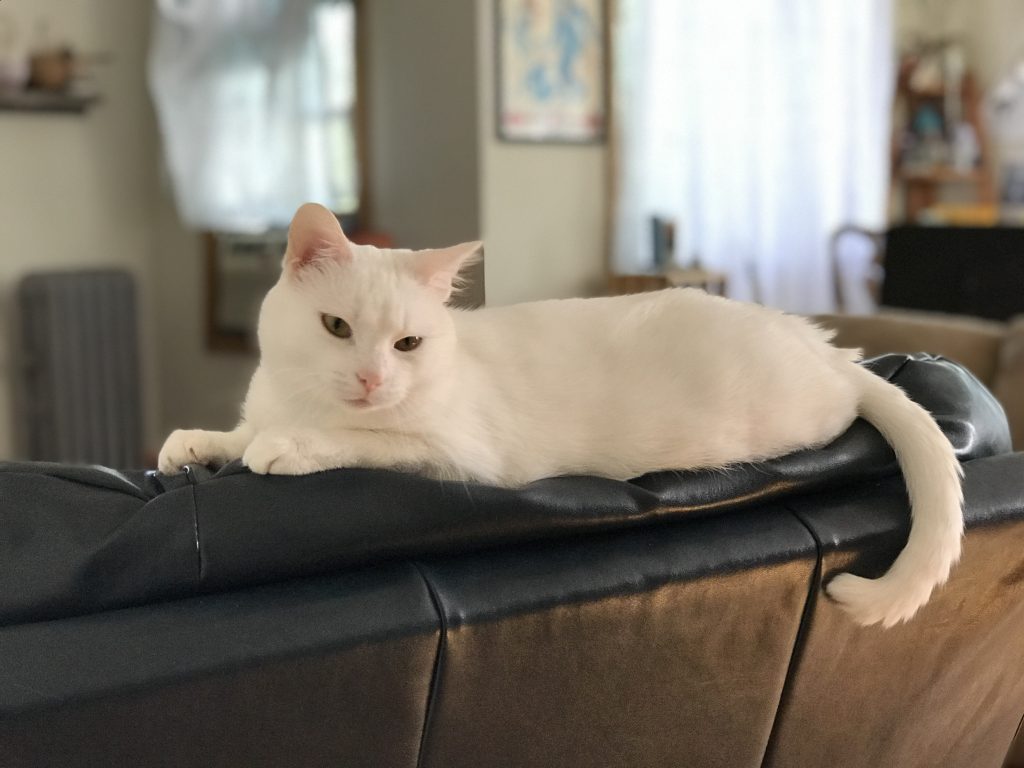 Liz, Eric, and Addie came back to visit Ella and that was all it took, "She broke our hearts and healed them at the same time, and we brought her home that day."
We are so grateful to Liz, Eric, and Addie for taking the time to understand this beautiful cat, see beyond her anxieties and fears, and give her a chance.
Ella is doing great in her new home! "She's very curious about where we are. And when we come home, she runs out like a puppy to greet us." Ella loves her morning "zoomies", "She runs the path from the basement to the 2nd floor of the house." She also enjoys soaking up the morning sun in the bay window.
Addie has given her a middle name, so she is now Ella Forrester Brown – plus, she started an Instagram account for Ella. "We love her very much." The family continues to work with Ella's overstimulation issue which has improved. She is even attempting to become a snuggler.
We are so grateful to Liz, Eric, and Addie for giving Ella a second chance and a loving home. What a wonderful story about the cat-human bond as well as the powerful healing effects this bond can have on children!
You can change a cat's life. Help us spread the word.