Harry has added so much joy and love to my life. He is the sweetest, gentlest, most loving cat I have ever met.

— Annette
All of us at Tree House are tremendously grateful to generous donors like you who make our work possible and for the wonderful cats we have the honor of helping.
Cats are part of our family. They make us laugh. They get us up early in the morning and sometimes in the middle of the night. They listen to our problems, sleep on our favorite sweaters, and add joy to our lives.
This year, we wanted to share two wonderful Happy Endings.
Adopters like Josh & Dana and Annette give Tree House cats a second chance at family.
Love at First Sight – Harry's Story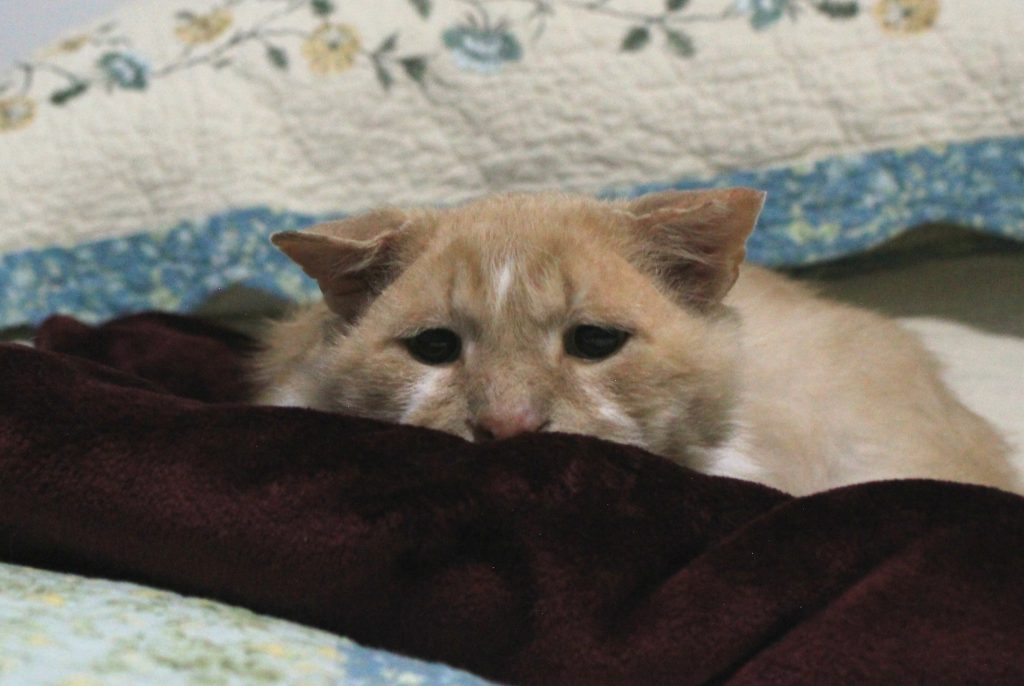 Harry the hunter. Here he is in his new home getting ready to pounce on his favorite prey…the bookmark!
Harry came to Tree House as a stray. He is a senior, FIV (Feline Immunodeficiency Virus) positive cat who was pretty shy at first. Slowly, he started to come out of his shell. Meanwhile, his future adopter, Annette, was learning about him on our website. "I was in love with him before I even met him." When Annette finally met Harry in person, she adopted him that day!
Harry is an incredibly sweet cat who yearns for the love of a human. He has settled into his new home very well and enjoys cuddling with Annette when it is reading time and eagerly seeks pets from everyone who visits.
Best Friends in the Making – Sigmund – aka Siggi's Story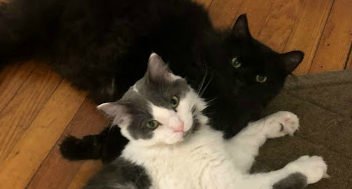 Siggi has been such a joy to have around the house. He and his new brother, Otto, love to wrestle and chase each other all over. It's adorable.

— Josh and Dana
Sigmund is an FeLV (Feline Leukemia Virus) positive cat. Although he has a weakened immune system, with proper care and diet, he can lead a rich life.
Josh and Dana felt that their FeLV+ cat, Otto, needed another playmate after his sister passed away. They read about Siggi on our website and thought he would be a perfect fit. When they came to Tree House to meet this beautiful black cat in person, they "immediately fell in love with his charm!"
Siggi loves his new cat brother as well as hanging out on the window sill and watching the world go by. He is happy, healthy, and loved.

A Gift that Gives Back: honor or remember a special person or pet with a Tribute Gift
Each year, Tree House remembers and honors special people and pets who are important in our supporters' lives through the Lights of Love lighting ceremony at our Holiday Open House. For each gift that a donor makes, a white light will be lit for those being remembered and a multi-color light for those being honored. Thousands of lights will illuminate the shelter throughout the month of December — "shining bright" for the people and pets who have added great joy and love to our lives.
Please consider giving a tribute gift to remember or honor a special person or pet in your life and send a personalized e-card to that special someone.
Each tribute gift is $15 which provides a week of meals for one stray cat or kitten.

Join Us at Our Holiday Open House
This year, our Open House will be held on Saturday, December 8th. Get your tickets today.