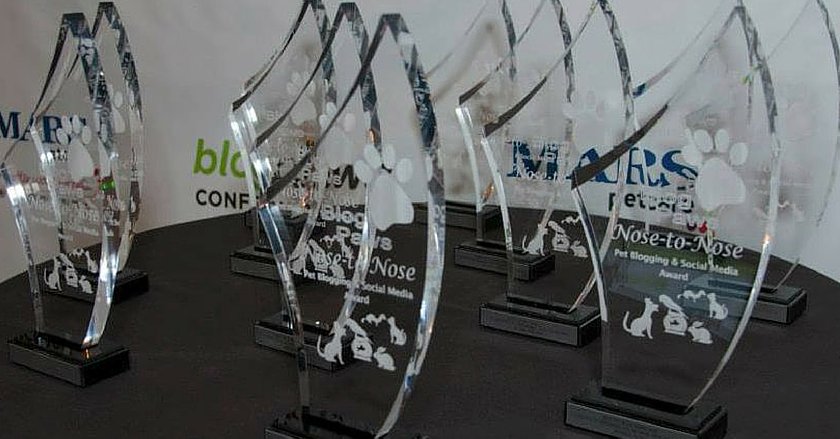 BlogPaws has announced that Tree House has been nominated as a finalist in three categories for a 2016 Nose-to-Nose award! We just found out last week, and we couldn't be more excited and honored to be a finalist. There's a lot of information to share about what this means for Tree House, the event, and how you can be part of it. Let's get started!
Impact on Tree House
First of all, a shout out to you for all your support over the years. We couldn't have made it to this point without support from our readers. We are thrilled that you have enjoyed our blog, social media and videos for all these years. Your reading, sharing, reposting, and retweeting, has helped Tree House grow into what we are today. Tree House is a finalist, along with several other front-runners, to receive a Nose-to-Nose Award in:
The Scratching Post in the Best Cat Blog category
Real Tree House Cats of Chicago: The Interview in the Best Pet Blog Video category
Real Tree House Cats of Chicago in the Best Use of Social Media by a 501(c)3 category
There are a few people here at Tree House that deserve an extra shout out: Ollie Davidson – Director of Programs and Operations, Chelsea Alexander – Programs Assistant, and Natalie Alms – Digital Marketing assistant. Ollie created The Scratching Post in 2004 as a way to increase awareness and further Tree House's reach. It's been over a decade later, and the blog now reaches over 50,000 people each year. The Scratching Post has always strived to be both fun and informative and to help others better understand cat behavior, as well promote our adoptable cats and press releases. As you know, our blog now also updates our readers on current animal-related world events, and the programs at Tree House like our recent adoptions, TNR, outreach events, and the progress on our new building.
Ollie, Natalie, and Chelsea have dedicated a lot of time and hard work to organizing, managing, producing, and promoting The Real Tree House Cats of Chicago. This platform was developed by Critical Mass and Tree House, and our team has used it to showcase the daily lives of the cats here. The Real Tree House Cats of Chicago also collaborates with others to help us promote our upcoming building in West Rogers Park. We also want to thank Natalie Bomke of Fox 32 Chicago for working with us in "The Interview" episode that BlogPaws has nominated.
The BlogPaws 2016 Conference
BlogPaws is an organization dedicated to connecting the online pet and animal loving community. They specialize in teaching their members how to amplify their voices through social media. This year the BlogPaws 2016 Conference is taking place from June 23-25 in Phoenix, AZ. Not only will there be a ton of pets at this conference, but there will be plenty of educational workshops, brand events, and more for participants to take advantage of. The Pet Blogging and Social Media Awards ceremony takes place on that Saturday of the conference and it will receive media coverage.
Your Role in the Event
If you can't make it to the conference, the award ceremony will be streamed live on the BlogPaws website. Give yourself a pat on the back because it is your support that allows Tree House to keep their doors open and to be recognized like this for our accomplishments. We appreciate your support with all of your sharing and fundraising, and hope to continue to grow for many more years to come. If you would like to contribute to Tree House and our new building, visit realtreehousecats.org.