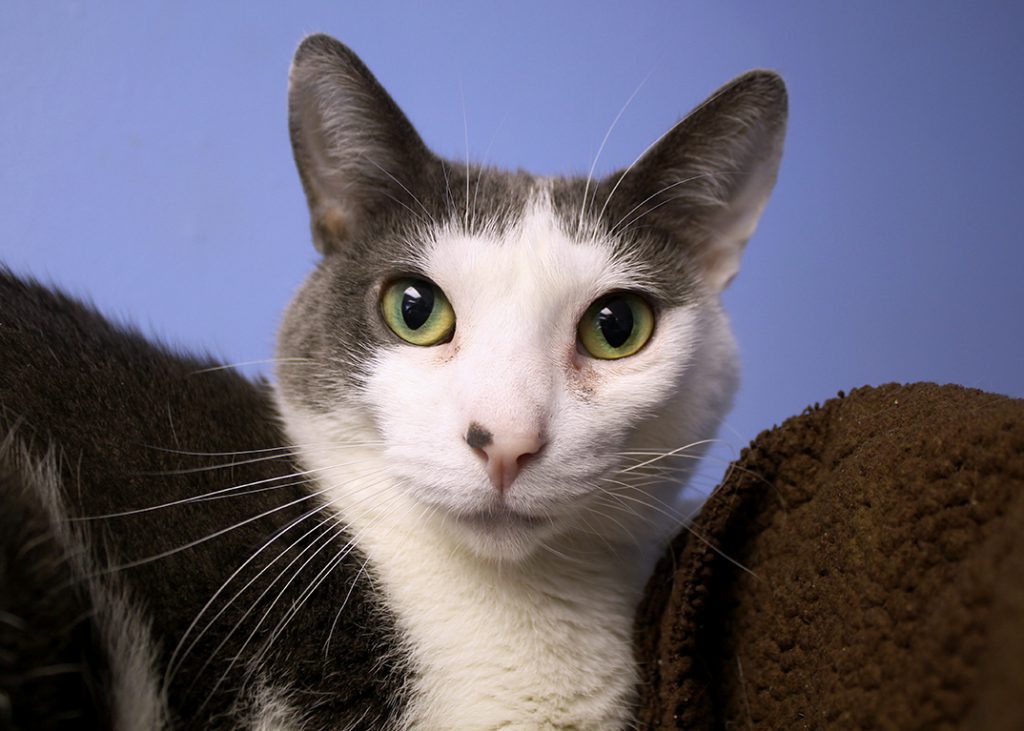 It's not very often that we adopt every cat out of one of our colony rooms in a week span, but in the past week, all cats in our Willow room – Seven, Murph Gezellig, and Vadim Wit – found new homes! Here are their stories:
Seven is one lucky lady.  This beautiful, jewel-eyed kitty came to us "emaciated, dehydrated, and sneezing" in 2013 from a traditional shelter, and has made quite the turnaround. (Fun fact: She was number 7 on the list of cats that came to us that day, and the name Seven just stuck!) We learned that she has chronic epiphora – which means that her tear ducts don't drain well – which definitely did not slow her down. She was adopted in February 2014, and was returned in July 2016 at no fault of her own, and has since been through quite a few moves and some minor health troubles. Seven originally moved into a room with other cats, but we found that she was just a bit stressed out around the other felines. Beyond that, Seven's skin began to twitch, and it was deemed that she simply had itchy skin and allergies to something in the environment – she now requires an allergy pill every day. She then moved into her own luxury "condo", where she enjoyed being the center of attention! Seven loves pets and playtime, but she has a limit – and isn't afraid to tell you when she is overstimulated. She eventually moved into a space – our Willow colony room – with some shy cats (more about them below) that allowed her to be the queen of the room. Now, we're happy to announce that Seven has finally found a comfy place to call her own! We have no doubt that she is enjoying all of the attention from her adopter, and we wish them both the best.
Murph Gezellig is a shy little 2-year-old girl who came to us in August 2016. She was originally living outside as a Community Cat, but we found that she may enjoy the indoors just a bit more. With no major health issues and a playful personality, Murph was the perfect companion for the other cats in the Willow colony room – she was often found cuddling and grooming her roommates! However, she was very shy around humans, and she lived on our adoption floor for a few months until we found her the purrfect match – another young, shy kitty that needed a friend. Cheers to Murph; we're so happy that you found a new home!
Vadim Wit is another shy kitty that resided in our Willow room. However, he had a bit more winding path to get there – since he is so young, he originally lived in our Pine kitten room in September 2016. But after he recovered from a little kitty cold, he was moved to back up to live with Seven and his good friend Murph. Vadim was so similar in personality to Murph, and we just knew that he needed a buddy. After Murph was adopted, Vadim seemed a little bit down in the dumps. Luckily, only 4 short days later, a wonderful pair of adopters came in looking for a friend for their cat at home. Another match was made! We are so excited to hear how Vadim opens up in his new home.
Also adopted in the past two weeks: Nicole Polizzi, Free Willma & Free 99, Leo Dicaprio & Demi Moore, Walt Disney & Uncle Jim Adams, Leo Singer, Sylvia Rivera, Free Fallin', Fortune, Abby Hoffs, Boris Karloff, Susanna Hoffs, Marshmallow Puff & Scrumpy, Gucci Prada, Zoe Ball & Franklin Pierce, Mesa, Charlie Arlo, Ginger Dancer, Black Velvet, Miley Cyrus & Paige Kennedy, Keith Chamberlin
Posted by Kayla M.