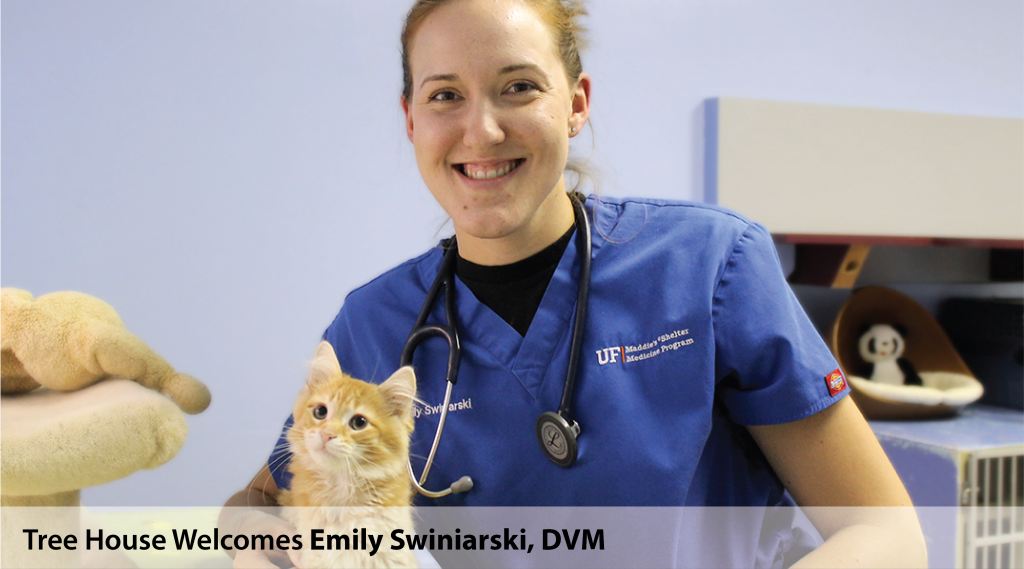 Tree House's in-house veterinary clinic is a vital part of our ability to truly make a difference in the lives of the animals we rescue. Tree House regularly admits sick and injured cats who need dedicated veterinary care, many of whom are in serious or life-threatening situations, as well as animals with chronic medical conditions. Many of these animals either would not survive without the necessary medical care or would be euthanized at more traditional shelters. Thanks to our dedicated clinic staff, these animals have a second chance.
Additionally, our clinic staff provides our resident cats with the daily comfort and care they require from administering medications and monitoring their health to intensive care treatment and medical procedures – along with extra TLC.
New Director of Veterinary Services
Due to our commitment to the cats we rescue, we are pleased to welcome Emily Swiniarski, DVM, as our new Director of Veterinary Services.
Dr. Swiniarski discovered her passion for shelter medicine while in veterinary school at Iowa State University and pursued that passion by embarking on a year-long Shelter Medicine Internship at the University of Florida. Since then, she has remained in shelter medicine having served as a shelter veterinarian in Washington D.C. and most recently as Medical Director of an animal shelter and low-cost clinic located in Los Angeles, California.
Originally hailing from the Midwest, Dr. Swiniarski is glad to be back (along with her husband, two cats, a dog, and a rabbit) and be a part of Tree House during a time of exciting growth.
Your Support Helps Provide the Care the Cats Need
We are grateful for the ongoing support of individuals like you that enables us to continue to provide the care and comfort these deserving animals need and maintain our focus on rescuing and rehabilitating sick, injured, abused, and abandoned stray cats.
Please join us in welcoming Dr. Swiniarski to Tree House.
Posted by Kristine A.