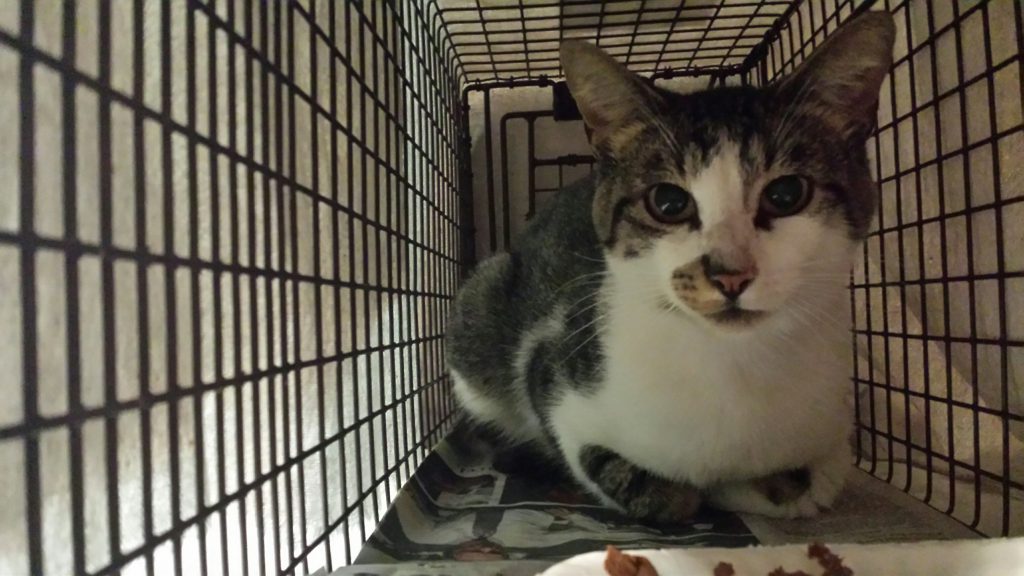 I think back to 2010 when I started seeing cats in my neighborhood and I wondered how I could help them. A couple neighbors had seen some older black kittens, but couldn't catch them because they never came close enough. By going online, I discovered the practice of Trap, Neuter, Return (TNR). I was nervous about trapping a live animal, but I bought a trap online, put it out in my front garden behind the hydrangeas and trapped my first cat, a small tuxedo female. I discovered the PAWS Chicago clinic down on the south side and took her there to be spayed, vaccinated, microchipped and ear tipped. The 45 minute drive one way, which equated to three hours in the car for a morning drop off and afternoon pick up, was not only exhausting, but challenging to accomplish with a full-time job. And it seemed like such a waste of resources for the one cat at a time that I was trapping. I was also catching possums, raccoons and cats that were already ear tipped. Little did I know that I was doing everything wrong, there was a Tree House spay/neuter clinic much closer to me in Bucktown, and I lived between two established feral cat colonies. What I was about to embark upon would not only improve my trapping success, it would eventually lead to a career change.
On the way back from PAWS one morning, I drove up Ashland Ave and saw the big orange "Tree House" sign. I knew the Tree House location on Carmen Ave, but I had no idea there was a second location. The Tree House BDVM Mac Lean Spay Neuter clinic had just opened in 2008. This was much closer! Soon thereafter, I began taking cats to Tree House and got to be pretty friendly with the staff. Doug was so helpful in guiding me through the process and helping me to age kittens. I registered as a colony caretaker, Tree House's 113th to be exact. With my registration also came a wealth of knowledge and support. I remember late night phone calls with our then Community Cats Director. She talked me through all of the do's and don'ts of trapping. I got on a meal-feeding schedule. I stopped leaving the trap open overnight. And I reached out to my neighbors who were also feeding, to coordinate trapping activities with them. At the time I had no idea how lucky I was to live in Cook County where there was an ordinance that permitted me to trap and sterilize the neighborhood cats.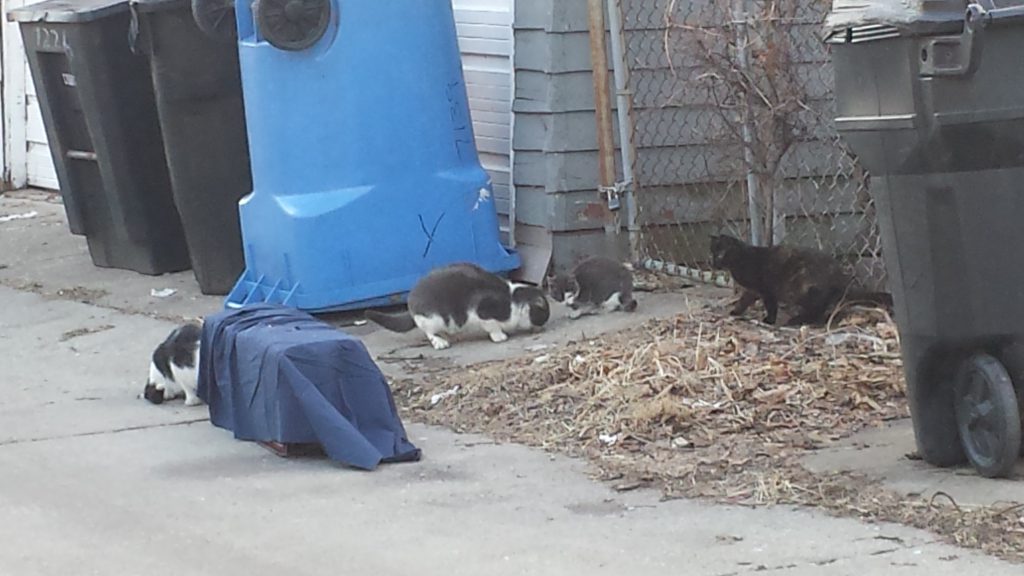 Before the ordinance was passed, there were not many options for feral cats in Chicago. At open-intake shelters, they were humanely euthanized. Tree House's mission states that "we promote the inherent value of every animal," and so there were some years when Tree House admitted feral cats to the shelter and attempted to socialize them. The ferals typically hid in the corner and in cat trees if anyone came into the room. Caring for them was a challenge and they just didn't seem happy. Many took years to socialize and some never did. Adopters didn't seek them out to take home. There had to be a better way to help feral cats.
There were a handful of independent trappers, but they operated in the shadows for fear of being discovered by anyone of authority. The Chicago municipal code prohibits ground feeding of wildlife, so TNR was considered "illegal" by many. The independent trappers kept doing what they were doing and eventually Tree House started offering "spay days," at the Uptown location whereby people could bring in cats in traps and received discounted spay/neuter services. Eventually in 2005, Tree House established the "Feral Friends" TNR program, the first humane organization in Chicago to recognize TNR as the preferred practice for managing feral cats. Other animal welfare organizations were leery of following suit, still concerned with the legality of feeding free-roaming cats. Eventually TNR advocates and animal welfare organizations, lead by Tree House, were able to work with Cook County Commissioners in 2007 to establish the Managed Care of Feral Cats ordinance 07-O-72, officially legalizing TNR.
I continued to trap cats in my neighborhood and really grew more and more interested in the process of TNR. Eventually Tree House asked me if I wanted to volunteer to help people who were unable to trap themselves to TNR the cats they were feeding. What a fun volunteer job! My first clients were an elderly brother and sister in Logan Square, who were feeding a colony of about 15 cats. They didn't have a working vehicle and were very thankful for the assistance. It was late Fall and the temperatures had started to drop. I will never forget seeing the cutest little 8-week old kittens hopping up their font stairs just shivering from the cold. I soon learned that TNR and fostering go hand-in-hand! I adopted Bernie, Sawyer and Smoky out of my house and still keep up with their guardians today. I TNR'd the rest of the cats and eventually their colony stabilized at about 5 regular cats, a much more manageable number for them.
In 2013 I lost my job in product marketing. I had been with the company for 15 years, so this was a big change. At the same time, my predecessor at Tree House was having her first baby and was planning to leave. I hadn't really considered doing TNR as a full-time job, but I was really getting into the whole process and enjoying helping people who were caring for cats. I decided I would give it a go for a year and accepted the position as Community Cats Program Manager. That was three and a half years ago!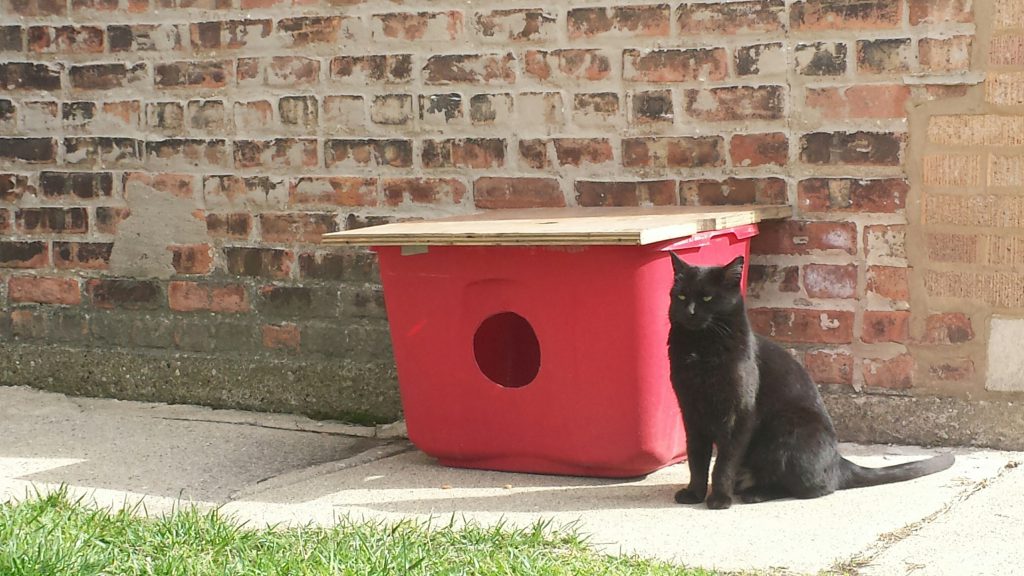 Each year the program has continued to grow and gain support in the community. New caretakers can attend a Helping Community Cats workshop, can borrow humane traps from either Tree House location, and both phone and email hotlines support any questions that may arise. This December marked another milestone. The Tree House Community Cats program just celebrated the addition of our 750th sponsored colony! Nearly 3800 cats now live in Tree House sponsored colonies. Over 3400 cats and kittens have been removed from the streets since the inception of the program, and we have seen the average colony size reduce every year.
In 2012 Tree House established the Cats at Work (CAW) program, whereby we relocate colonies of 2-3 feral cats to caretakers who want them for rodent control. The CAW program really grew out of a need to support existing registered caretakers who could no longer care for the cats. In 2014 Orkin pest control service named Chicago the rattiest city in America and the demand for working cats grew significantly. In 2013, Tree House placed 50 cats through the CAW program. This year, we will place over 300 feral cats in need with new caretakers who will take wonderful care of them, while enjoying environmentally friendly, effective rodent control. Tree House has placed working cats in residences, condominium buildings, community gardens, breweries, warehouses, lawn and garden centers, and more. CAW was featured on the front page of the Wall Street Journal this fall and was the second trending story on CNN this summer.
As the Community Cats program continues to grow, animal welfare organizations from all over the country and across the globe are reaching out to Tree House for guidance in setting up similar TNR and CAW programs in their communities. For me personally, it has been a very exciting and rewarding journey from seeing those first cats running around my neighborhood to being part of such an innovative program and positively affecting the lives of so many cats and kittens in Chicago.  As we get ready to move into our beautiful new facility in Rogers Park, I look forward to further expanding the program and perhaps registering our 1000th colony as soon as next year!
by Liz H.