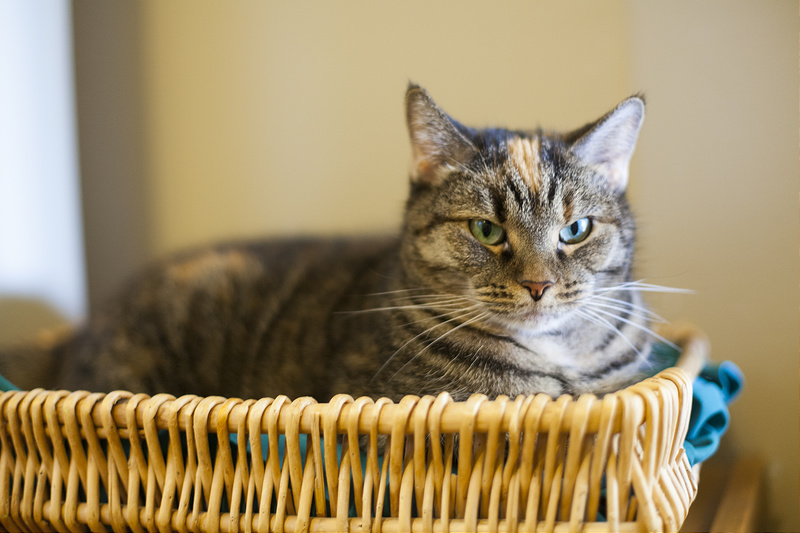 Shimmy is a very wise cat who loves to give advice! She's been a resident of Tree House since 2006. Over the years, she's picked up lots of sage advice from the adoptions staff.  Every month, she'll tackle another common cat owner issue. Shimmy currently resides at our Bucktown Branch and adores having  visitors. If you have a question for her or are in the market for a fun and smart kitty, she would be thrilled to meet you!
Dear Shimmy,
My human recently moved in with her boyfriend, who's overall a nice guy, however, he has a leather sofa that I find irresistible! It's much better than my old scratching post. Since the move, my scratching post has disappeared. I overheard the boyfriend saying that the scratching post didn't go with his decorating scheme. The boyfriend also has a very nice rug that I may or may not have scratched a hole in. I know, I know, I haven't been on my best behavior, but I don't know what else to do! My world has been turned upside down and my scratching options have vanished. I'm currently residing in the spare bedroom until the humans find a solution. The boyfriend wants my human to get rid of me or have me declawed. Please advise, Shimmy!
Needs to Scratch in Chicago
Dear Needs to Scratch,
Oh, you poor thing. I'm so sorry that you've been through so much! Moving to a new home is stressful enough without having your scratching post removed. A good scratching post goes with any  decor! Cats need to be able to scratch, it's instinctive and a way of marking your territory. I have some good suggestions for your human and her boyfriend. Please leave my column somewhere they'll see it.
First of all, declawing is never a good idea! It is only done for the benefit of the humans who do not understand how important claws are to a cat.  Declawing is considered an amputation; the equivalent of having your fingers cut off at the first knuckle. Not to mention it can lead to health problems down the road like litter box issues, arthritis, balance issues, and changes in personality. just to name a few. All of those seem worse than a ripped up couch! If the boyfriend still thinks it's a good idea, have him watch, The Paw Project.
Scratching posts are an absolute must! There are tons of options out there, so there's something for every taste. I hear the adoptions counselors talking about the Ultimate Cat Scratching Post; it's the best one available. What makes it so special? The post has sisal rope on it, is very durable, and is vertical. Cats like to stretch upwards. I've overheard that this scratching post is made so well, it can withstand the hundreds of cats who pass through the Bucktown Branch using it! The Ultimate Cat Scratching Post has a pretty basic design, as well.
In addition to the traditional scratching post, there's a plethora of other options! One of my purrsonal favorites is the cardboard scratcher. They come in many shapes and sizes (some are even sofa shaped)! You can find these at any pet store and they're very economical. The kittens in the front room really enjoy the Turbo Scratcher, it has a cardboard scratching circle in the middle and ball game on the outside. Playtime and scratching needs all in one.
With so many scratching posts and other scratchers, there's something for everyone and it's a good idea to have several options available.
Let's get back to this leather couch. Your human could position the scratching post near the couch. That way, you'll see the scratching post and use that instead of the couch. With the enticing rug, I'd recommend a floor scratcher positioned near the rug.
If that doesn't work, there's a product, called Sticky Paws, which is basically double sided tape (I haven't tested this myself, so make sure you read the directions and test a small spot to make sure you can use it on your couch).  The boyfriend could put this on the area of the couch that you like to scratch. When you attempt to scratch the couch, and you'll get stuck on the Sticky Paws. After a couple of times, you'll learn not to use the couch for a scratching post.  Aluminum foil placed on the area of the furniture that the cat scratches works the same as Sticky Paws. Much like humans don't like the feeling of foil on  filling, cats do not like the sensation of foil on their claws.
If the humans are around a lot, if they see you scratch on the couch or rug, they can firmly say "no!" and clap their hands or shake a cup of change. No cat wants to hear the dreaded change cup rattling or be scolded by their human. Overtime, you'll learn that the scratching post is better than the couch or rug.
There's also nail caps called Soft Paws that you can apply right at home! They come in fancy styles and colors, so you'll look like you had a manicure!
I'd recommend starting with adding a good, solid scratching post and a variety of cardboard scratchers to the home. Bottom line, cats need to have positive scratching opportunities throughout the house. That way, humans and cats alike are happy.
Faithful reader,  I hope your human takes my advice! In the meantime please try to stay away from the couch and rug!
XOXO,
Shimmy
as dictated to Michelle M.