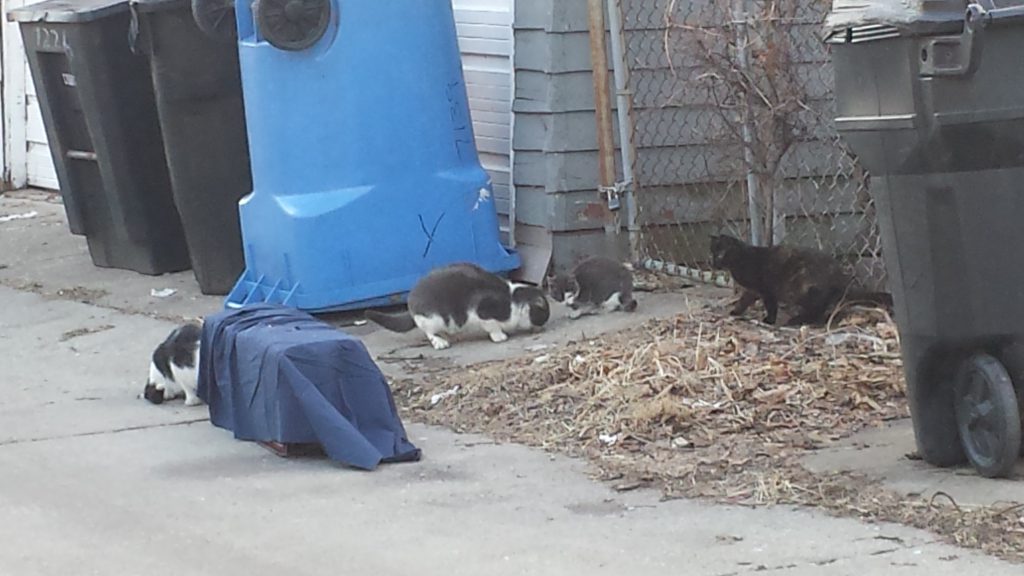 Celebrating World Spay Day! 
The Community Cats team is happy to return after several months hiatus with the next edition of our"Ear Tips" blog!
It's that time of year again!  February not only marks the beginning of mating season, but also brings World Spay Day (WSD), which is today! WSD is an annual campaign of The HSUS, Humane Society International and the Humane Society Veterinary Medical Association. On the last Tuesday of every February, World Spay Day shines a spotlight on the power of affordable, accessible spay/neuter to save the lives of companion animals, community (feral and stray) cats, and street dogs who might otherwise be put down in shelters or killed on the street. Today marks the 23rd annual World Spay Day! (1) Tree House is celebrating World Spay Day by offering a free workshop on "Helping Community Cats,"  where you can learn how to get involved to make a real impact on the overpopulation of free-roaming cats through the process of Trap-Neuter-Return (TNR), details below.
What's Going on Out There?
This time of year also marks the beginning of the breeding season for cats. Mating season for cats is triggered by the increase in length of daylight hours. As the days get longer and the temperature warms up, cats begin breeding.  The mating season is generally February through September in the northern hemisphere, although the Community Cats team has found kittens and pregnant cats in every month of the year. Cats are typically seasonal maters, but are polyestrous, which means that they will have more than one heat cycle in a year and can produce a litter at any time throughout the year. Female kittens become sexually mature when they reach 80% of their adult body weight. Most of the time, this ends up being around 5-7 months in age. Signs that a cat is in heat are loud vocalization, or yowling, restless behavior, rolling around, and sticking their bum in the air. The heat cycle will repeat itself until the cat has successfully mated, has been spayed, or until the days begin to shorten again. An average gestation period for felines is between 64 and 66 days. After a cat gives birth, it can go into heat again in 4 weeks, meaning that cats can become pregnant again while they are still nursing their prior litter.
Clinics experience the first rise of pregnancies in January. The rate of pregnant queens rises until it peaks during the months of March and April. Alley Cat Allies reported over half of all female cats brought into the clinic in the month of March were pregnant. This means that the cats have already started breeding. The unseasonably warm winter this year has only accelerated mating.
Later in the mating season there is a smaller, shorter peak of pregnancies. The smaller peak includes cats giving birth to subsequent litters, but also includes first pregnancies of late-born kittens from the previous year. The average age that kittens produced their first litter of kittens in the Nutter study was 10.5 months.
The Humane Society of the United States estimates that only 2% of community cats have been sterilized in the United States. Community cats also produce 80% of kittens born each year. Our goal is to increase the number of community cats sterilized, to reduce the number of kittens born on the street.
Additional Benefits of Trap-Neuter-Return
The main ways cats spread disease, such as FIV (feline immunodeficiency virus) and FeLV (feline leukemia) are through fighting and mating. Males fight each other over females and to defend their territory. Males also bite the back of a female's neck to hold them down while mating, disease spreads from the male to the female and then in utero from the mother to her kittens. Sterilizing cats not only stops cats from being able to reproduce and eliminates the unwanted behavior associated with mating, but also keeps cats healthier by greatly reducing spread of disease.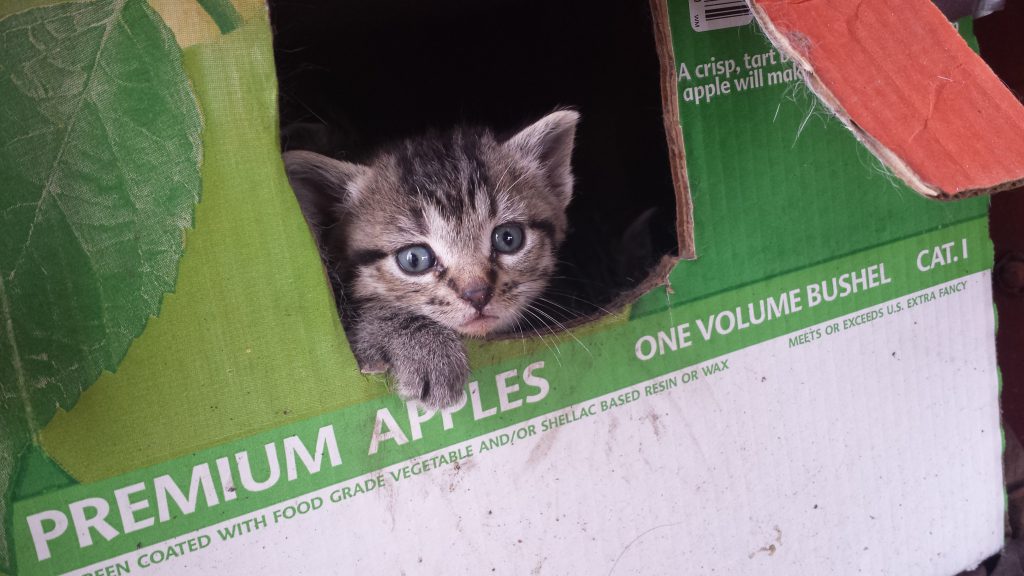 The first litter of (5) kittens rescued by the Tree House Community Cats Team last year
The study "Reproductive capacity of free-roaming domestic cats and kitten survival rate" by Felicia Nutter, followed 9 colonies of feral cats in the same county, one control group with the other practicing trap, neuter, and return (TNR). They found that on average, cats gave birth to more than one litter a year. Some cats even gave birth to 3 litters in a single year.  There was a 100% mortality rate for one of the first two litters of kittens born to the females having 3 litters. Sterilizing mama cats and their kittens helps to improve their quality of life while also halting the reproductive cycle. Overall, kitten mortality rates are between 50-75% depending on the study. The study by Nutter found that 75% of kittens died or disappeared before they turned 6 months old. Now is the time to trap those community cats, to begin improving their lives.
Steriliziation also stops most of the unwanted behaviors associated with feral cats. Noise from fighting and mating will subside.  The potency of male cats' urine substantially lessens following neuter surgery.
One of the most compelling reasons why TNR works in reducing the overall number of free-roaming cats is the Vacuum Effect. Well-documented among biologists, the vacuum effect describes what happens when even a portion of an animal population is permanently removed from its home range. Sooner or later, the empty habitat attracts other members of the species from neighboring areas, who move in to take advantage of the same resources that attracted the first group (like shelter and food). Killing or removing the original population does nothing to eliminate these resources; it only creates a "vacuum" that will inevitably draw in other animals living nearby. (2) Feral cats are very territorial by nature.  By TNRing the colony, a handful of healthy, sterilized, vaccinated cats "hold down the fort" in a given area and reduce in numbers gradually over time.
Chicago and Cook County
Estimates vary wildly between 250,000 and 500,000 community cats on the streets of Chicago. The law governing the care of feral cats is actually a County law, not a City ordinance.  The Managed Care of Feral Cats Ordinance  was established in 2007 and enables caretakers to feed and shelter feral cats, as long as they register with a sponsoring organization such as Tree House and agree to adhere to the protocols of the ordinance, including TNR.  In 2016, Tree House registered our 750th feral cat colony. Tree House proudly sponsors the largest Community Cats program in Cook County, and likely the largest in the state of Illinois. Our program was actually founded in 2005, two years before TNR officially became legal in Cook County.
Get Involved — Attend the Next "Helping Community Cats" Workshop!
If you are seeing cats in your neighborhood, talk to your neighbors, find out who is feeding, and pass out a community appeal letter.  If you are currently feeding outdoor cats, even just one cat, register as a colony caretaker by filling out the application on the Tree House website. Feeding at the same time every day and getting the cats on a feeding schedule is critical to trapping success.  We will go through these topics in detail, as well as a comprehensive "how to" for managing a trapping project at the next workshop:
"Helping Community Cats"
Saturday, March 4th from 11AM-12:30PM
For Dogs Sake, 1757 N. Kimball.
If you are new to TNR would like a refresher or would like to learn how to help others, please join us! RSVP to liz@treehouseanimals.org.
Posted by Elise E. and Liz H.
(1) Humane Society of the United States website, www.humanesociety.org
(2) Alley Cat Allies website, www.alleycat.org