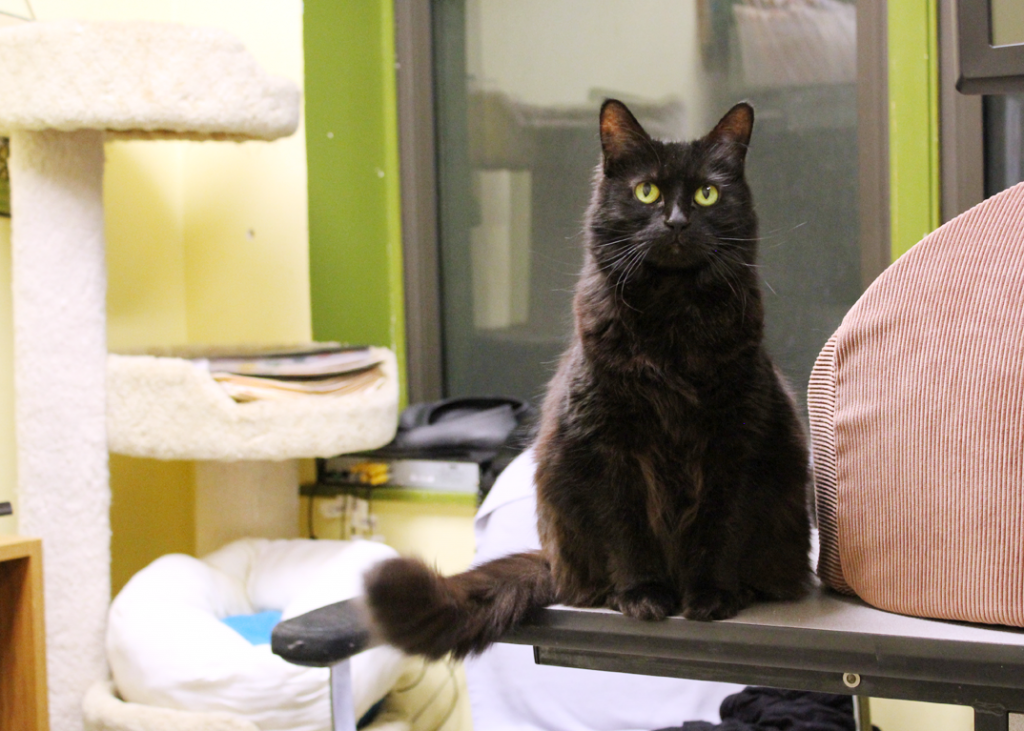 As we have mentioned in many Adoption Tails blogs, kitties with medical needs are oftentimes a bit harder to adopt due to a few different factors – most commonly, cost and time. It is always a joy when we are able to find homes for kitties with such needs. This past week, three special needs cats found some amazing new homes, and here are their adoption stories:
Chatty Catty, the beautiful wide-eyed kitty pictured above, was found outside in August 2014 by some Good Samaritans and brought to us at Tree House. This girl loves to talk, and was a fixture of the offices on our first floor. Because of her first floor presence, quite a few Tree House staffers, volunteers, and visitors were able to have a charming conversation with this chatty kitty. She was also often found sitting in laps or the comfiest spots she could find. Due to a few ongoing medical issues that required medication and fluids, many adopters would regrettably overlook Chatty during her 2 and a half year stay at Tree House. But when an experienced cat owner came along and chatted with this cutie, she just knew that she couldn't live without Chatty in her life!
Vampires like Dracula might be cold-blooded, but Vlad Dracula the kitty was the exact opposite – warm, inviting, and snuggly! He was surrendered to a traditional shelter in the city, and brought to Tree House in September of 2016. He has hyperthyroidism, which requires twice daily medication… but he never let that get him down! Throughout his time here, Vlad helped us out with our Animal-Assisted Therapy program, bringing joy to many nursing home residents throughout the city. It would be hard not to feel happy after seeing his handsome face. A lovely lady was looking for a new companion, and a cat that would simply "co-exist" with her older cat at home, and she had her sights sight on a buff tabby – and Vlad fit the description!
Sweetie Almondine's name was a perfect fit – this guy was quite the lover. Sweetie, who came to us in June 2016 was very timid and would commonly be found hiding out in baskets and small, comfy spaces. After he spent some time on our FIV+ adoption floor, we quickly found that with a few head scratches, Sweetie came out of his shell – and couldn't get enough pets! He absolutely loved to rub his head on an outstretched hand, and would even step out of his comfy baskets to get closer to you. We also found out that another reason that Sweetie enjoyed laying in these baskets so much – he has arthritis in his left shoulder, which gives him a cute limp… but also makes a bit hard for him to get around. Sweetie's calm and dare we say… sweet! demeanor was on full display when an adopter came in to visit, and she was smitten!
Also adopted in the past week: Squishbean & Wigglefloof, King Singer, Famous Amos, Nick Rhodes, Chris Hardwick, Ming the Merciless, Otis Redding, Capybara Spice & Fuzzy Zoeller, Whiskey Baby