A Tree House adopter and long-time supporter, Lynne recently started volunteering with our Adoption team. She shares why volunteering matters to her and about getting her "cat time". 
How did you hear about Tree House? 
I adopted my two cats from Tree House in 1997, and I've been receiving Tree House mail and contributing since then.
How long have you been volunteering at Tree House? 
I've been volunteering for about a year. The new facility is closer to where I live, and I had decided that when Tree House's new building opened I would volunteer.
What drew you to volunteer for Tree House? 
I believe in Tree House's mission and how the organization takes care of its animals. My two Tree House cats lived long lives and passed away a couple of years ago. I did not know that my son is terribly allergic to cats when I adopted them (he was not living at home at the time). He would visit, but it was highly uncomfortable for him. I've moved into a smaller apartment and, for various reasons, I decided that I would not adopt another cat after losing my two. I am retired now and have been donating for years. I thought I might as well give my time, so this is how I get my kitty time.
After I finish my shift, I'm invited to take some "cat time".  So I go home happy! But my son continues to ask me if I've brought anyone home yet.
What do you find rewarding about volunteering? 
Non-profit organizations like Tree House couldn't be successful without volunteers. It is rewarding knowing that I can help. The Adoption Counselors are very good about thanking me and saying that my work is appreciated.  I feel like I've really accomplished something. This past year, I was trained on the organization's animal and clinic database. The training offered by the staff helped me learn what I needed, and all the adoption counselors are happy to help when I get "stuck".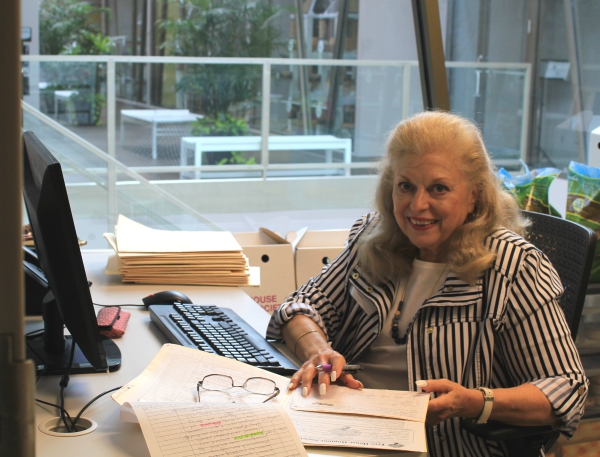 Lynne helps enter data into our "cat" database. Her time and help is an important part of the behind-the-scenes work that is needed to operate our shelter (plus, she is an amazing baker and brings incredible treats for which we are so grateful!)
What do you think of the work that Tree House does and why it is important? 
In my role, I have an opportunity to read the files of admitted cats as I enter the information into the database. I am constantly amazed at the medical issues these kitties have and how much they are cared for at Tree House. Not everyone thinks that helping these cats is of value, but there are people who think it is worth it. And it takes money. The organization needs the people who work to raise the money to help these cats. It has to be incredibly expensive, and yet, it's all done with love. I know all the Adoption Counselors love the work they do and it shows. Based on what I've seen, I don't know if other shelters would take such good care of the cats.
What would you say to others who are considering volunteering at Tree House? 
If you love cats and want to do something that enables you to be around them, Tree House is a good place to be.
If you want to help a good cause, full of people who care about the animals, Tree House is a good place to be.
If you have a little extra time in your life to give to a good cause, Tree House is a good place to do it.
We are so grateful to Lynne and all of our wonderful volunteers for the hundreds of hours they give to Tree House. There are so many roles that go unseen but that are vital to enable us to do the work we do. We are making a difference in cats' lives thanks to so many people who share our passion and support our work by volunteering. If you are interested in learning more about volunteer opportunities at Tree House please complete our volunteer application and our volunteer coordinator will follow up with you.