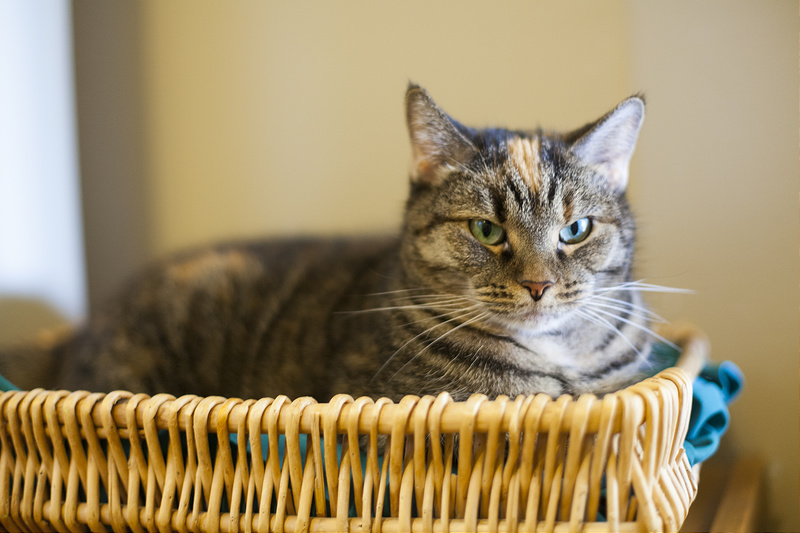 Shimmy is a very wise cat who loves to give advice! She's been a resident of Tree House since 2006. Over the years, she's picked up lots of sage advice from the adoptions staff.  Every month, she'll tackle another common cat owner issue. Shimmy currently resides at our Bucktown Branch and adores having  visitors. If you have a question for her or are in the market for a fun and smart kitty, she would be thrilled to meet you!
Dear Shimmy,
Halloween is right around the corner, and I'm not at all excited. I'm a very reserved kitty and like things quiet and orderly around the house. Halloween drives me nuts! The constant doorbell ringing and the children yelling, "Trick or Treat!" while wearing scary costumes is a bit too much for me. Last year I spent Halloween underneath the human's bed. I didn't come out for three days. My sister made a bolt for the door and hid in the bushes until it was over.  The other day, I noticed that the human had bought us costumes: Yoda for my sister and a pirate costume for me. Is there any way we can either return them for the human or destroy them? Please advise, Shimmy.
Not A Fan of Halloween in Lakeview
Dear Not a Fan,
I am so sorry! Holidays can be very stressful for cats. Over the years, I've picked up some tips from the adoptions counselors on how to survive the holidays.
During Trick or Treat time (why isn't there one for cats? I would love for someone to bring me some Temptations or Friskies Party Mix), I would recommend that your humans find you and your sister a nice quiet spot, like a bedroom or office with a door, where you can hang out while the neighborhood children collect their candy. If there's more than one human, they can take turns spending time with you guys and playing with you or watching "It's the Great Pumpkin, Charlie Brown." Not only will you and your sister feel more comfortable, but there's less opportunity for you to want to bolt out the door and hide.  I cannot stress enough how important it is to keep cats indoors, every day of the year, but especially on Halloween. There's lots of people who are out to harm cats and other animals, and Halloween seems to be their time to come out.
I'm not sure why humans insist on putting costumes on cats! I feel very fortunate that no one has ever attempted to put a costume on me during my many years  at Tree House (staff and volunteers, please don't get any ideas). I have no desire to play dress up. During my time at Tree House, I have only encountered one cat (kittens don't count) who enjoys wearing costumes. Jeremiah, the office cat, has no issues wearing a sushi costume or a pumpkin costume for hours on end!  I don't know how you could return them, and destroying them isn't a good idea. I do have some tips for the human. You might want to put my column right on top of the costumes.
Shimmy's Costume Tips to Consider:
Do a dress rehearsal.  A couple of days before Halloween, put the costume on your cat and see how they react. Many cats will wear the costume confidently, with no issues.  Other might have an adverse reaction to the ensemble. Do they hiss and swat at the costume, or growl while in the costume? Do they try to take the costume off? Do they run and hide?
Watch for body language.  How are the cat's ears? Do they go back? Are they flat to the head?  Is the cat slinking away? Does the cat look very awkward and uncomfortable? Is the cat's tail down? Tail twitching back and forth? All of these are signs that the cat is annoyed, anxious, or upset, and the costume is stressing them out!
Make sure you pick a pet-friendly costume.  It may seem like a good idea to put a corset on your cat and have her go as Lady Macbeth. The boning or wire in the corset might poke and prod Fluffy in odd places. Ill-fitting outfits can get caught on everyday objects, which might  lead to injury.  Watch out for removable parts, dangling belts and sashes, or beads.  You should be able to find a selection of pet-friendly costumes at your local pet store.
Does it fit? When you have the dress rehearsal, make sure that your furry friend has plenty of room to move, nothing interferes with their vision or hearing, and it's not too loose or tight.  If the costume is too big, Fluffy might get caught on something or tangled up in the costume. If it's too tight, it might put unnecessary stress on the cat that could lead to choking.
Bottom Line: Sometimes it might be best to buy your cat the catnip Jack-o-Lantern and skip the costume, unless you happen to have the rare kitty who enjoys dressing up as Jack Sparrow.
I hope these tips help you and your sister have a stress free Halloween! Until next time, dear readers, have a very safe Halloween!
XOXO,
Shimmy
As dictated to Michelle M.