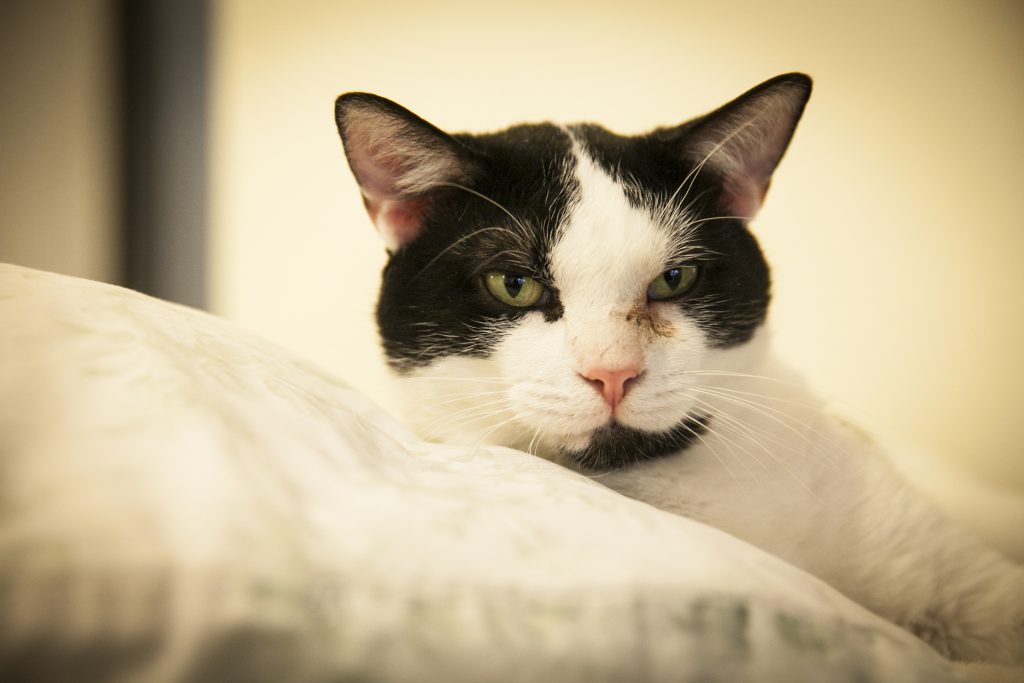 Spring is in full swing, and it has been a busy week of adoptions!
This week, we're highlighting the adoption tails of 3 cats with 3 very different stories and personalities:
Toxie the T-Rex (pictured above) has a "tough" exterior but a molten interior. He was a Community Cat that was found to be friendly, and admitted to us in September 2016. After spending some time in a foster home, he moved to our Bucktown location in November 2016, and then to our Uptown adoption floor on Christmas Eve! Although Toxie is a young and healthy boy, he spent a bit more time than we expected on our adoption floor awaiting his perfect forever home. During this time, he charmed so many volunteers and staffers, who were happy to give him some much-needed playtime, or offer him a warm lap to lay on. A past Community Cats volunteer (who knew Toxie when he was admitted to us!) couldn't stop thinking about this laid-back, yet playful, dude and came in to adopt him. We're so thrilled that the stars aligned for this spunky kitty and his adopter!
Cuttlefish should've been named "Cuddle-fish"; with a love for belly pets, this sweet girl could never get enough love! She is a stunningly beautiful kitty that came to us in 2008 as a kitten, was adopted, and unfortunately was returned to us (at no fault of her own) in March 2017. Her beautiful face and warm personality made her a fast favorite on our adoption floor, and we're not surprised that she was adopted only a few weeks after coming back to us. Cheers to Cuttlefish and her new home; many years of happiness to you all!
As one of our oldest residents to date, Macy has quite the story to tell. She came to us in November 2001 as a young, scared kitten, and was adopted shortly after. Unfortunately, this wonderful girl was brought back to us in 2003, adopted out again, and then privately re-homed with the adopter's neighbor in 2006. After 10 years, she was found outside and in rough shape. With a few months in a loving foster home, she was able to heal her wounds – and her heart. We're happy to report that she spent only 5 days on our adoption floor: when a woman came in to adopt a companion, Macy was her favorite. We have no doubt that Macy is comfortably snuggling up with her amazing adopter as we speak!
Also adopted in the past week: Black Olive, Cue Ball, Cara Delevigne, Machu Picchu, Sylvia Day & Becky Hammon, Twilight Twinkle, Kovu, Mama Mabel, Ozzball
Posted by Kayla M.