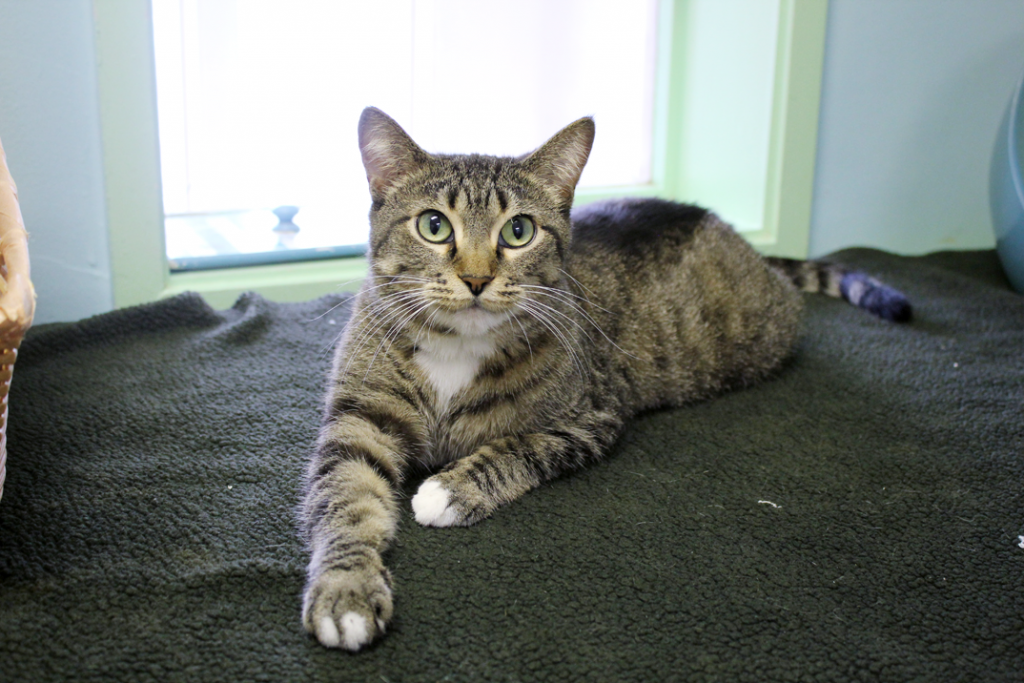 If you've visited Tree House lately, you may have noticed that our cat population is lower than normal (and we're certain you will be able to tell that from this blog post!). In preparation for our big move to our new facility (more on that here), we are admitting fewer kitties to our adoption floor. This has allowed us to focus on adopting out some of our harder-to-adopt cats, which means that they won't have to go through a stressful transition from building to building. Getting these kitties into comfortable homes is our #1 priority right now. We're so excited to share the news that Mommaska, one of our Feline Leukemia (FeLV+) residents, and Sadee, a senior resident, have been adopted! These two (seemingly different) ladies share one thing in common – they are "mellow" by nature, but powerful in personality.
Mommaska is an adorable little lady that came to us in November 2016 after being pulled from a traditional shelter in August. She tested positive for FeLV+*, which unfortunately caused her to stay on our adoption floor much longer than we expected. Despite having FeLV+, she is a young, healthy and friendly kitty that just loves to relax on a comfy blanket (as you can see in her photo above!). She is such a cuddly cat that could never get enough attention while she was here at Tree House, and while she awaited her forever home, she made a few friends in our FeLV+ pop-up adoption room. She seemed to simply co-exist with these other cats, and not necessarily NEED their attention, so we thought she would do just fine in a home as the only cat. When a couple with a mellow, older dog came to adopt a new friend, she was a clear favorite, and it is not hard to see why. Hooray for Mommaska and her new family!
*Feline leukemia virus, also known as "FeLV," is the cause of a variety of diseases. As a retrovirus, it replicates itself inside living cells, making it impossible to cure. Specifically, FeLV invades and replicates in cells of the cat's immune system and tissues that create blood cells. FeLV is specific to cats and does not pose a risk to other animals or people. Read more about FeLV here.
Sadee is a silver, senior sweetheart that has unfortunately been through a lot during her 11 years. She came to us in 2008 as a mom of a few kittens, after being found outside. She was adopted later that year, and was unfortunately returned to us in 2011 due to changes in her home – her adopters were moving and could no longer care for Sadee. This sweet kitty spent about 3 months here, and was adopted into another home. Sadly, her adopters had another cat and a newborn that were causing Sadee a lot of stress, and she was returned in February of this year. When a wonderful adopter, with no other pets or people in the home, came to meet cats that would be a great snuggling partner, Sadee stood out. We can't wait to hear about her snuggling sessions!
Also adopted in the past week: Radclyffe
Posted by Kayla M.