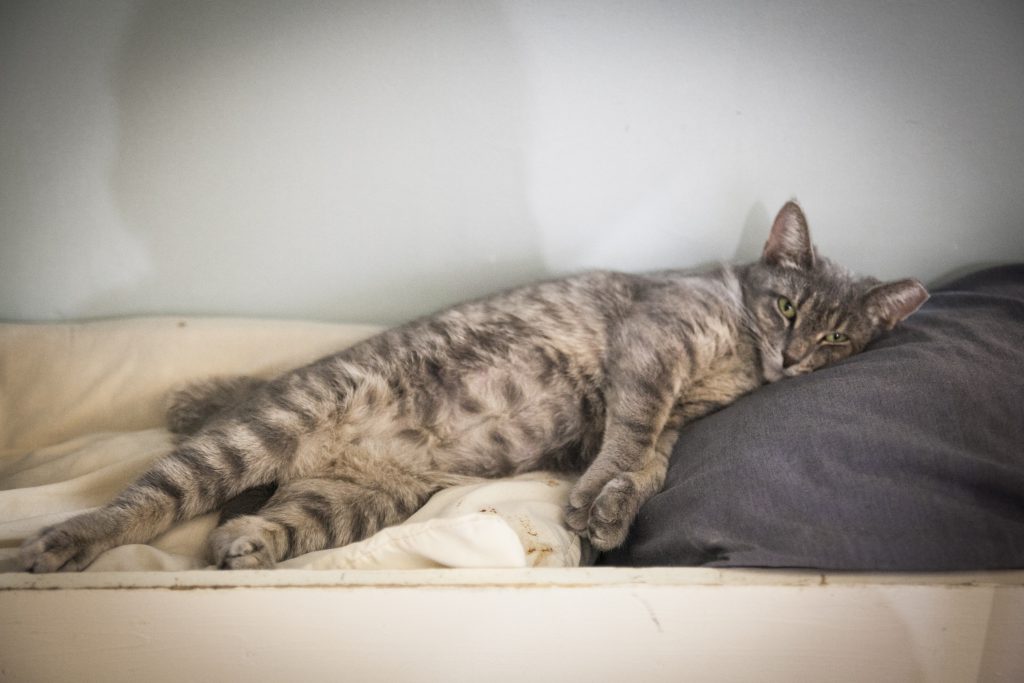 In case you missed the announcement on our Facebook page, we are consolidating the services we provide at our Bucktown location into Tree House's current Uptown headquarters. On December 19, 2016, the Bucktown site will close to the public in order to facilitate the move to our new building. We look forward to welcoming our Bucktown cats, staff, and volunteers to our Uptown location!
In the meantime, we have some great adoptable cats for you to meet at our Bucktown location. Moving can be hard for cats, especially senior cats, so please consider letting one of these special kitties move straight into your home (and your heart). Check out our website for our adoptable senior cats at Bucktown.
We've also had so many wonderful adoptions at our Bucktown location over the past two weeks (including three pairs!), and wanted to put the spotlight on them. Thanks to our Bucktown Adoptions staff for helping these wonderful kitties find their new homes.
Maggie Green (pictured above) and Glenn Rhee are some of the most adorably squishy and sweet cats that you will ever meet. Despite being a year old, the pair are still kitten size… what we call perma-kittens! Glenn is the more outgoing of the two and has a very laid-back purrsonality. Maggie took her time getting used to life in the shelter, but once she felt comfortable enough, she would curl up on your lap. A family had made several trips to Tree House looking for the perfect cat. Mom really wanted a cuddly pair of lap cats and the kids were huge Walking Dead (where the kitties got their namesake) fans, so they knew that  Maggie and Glenn were the right cats for their family.
Lucky Cat and Chance the Catter were friendly strays that were taken in by a colony caretaker. Although they weren't littermates, they're the best of friends! Chance the Catter was the shyer of the two and relies on his buddy for support. Lucky Cat is a very affectionate cat; it wasn't uncommon for him to jump into your arms and give you forehead kisses. His calm demeanor made him the purrfect Animal-Assisted Therapy cat. An adopter visited yesterday afternoon looking for his very first pet, and was instantly drawn to Lucky and Chance. These two sure were lucky when, by chance, their adopter stopped into Bucktown 🙂
Luna Hermosa was rescued by a colony caretaker who found Luna and her five kittens wandering around the Hermosa neighborhood. From the moment she got to the adoption floor, sweet Luna couldn't wait to get out of her acclimation cage and explore! Luna is a delightfully sweet kitty who loves all the attention she can get from humans. A couple spent some time with the cats at Uptown, but no one seemed to be a good fit. Luna marched right over and rubbed up against their legs and they knew she was the cat for them!
Gene Belcher and Mr. Fischoeder are two of the most easygoing, even-tempered kittens you'll ever meet! Both boys are perfect examples of tabby cuteness with their beautiful patterns and adorable white paws, and have a very sweet habit of napping with their arms around one another. Gene is the more opinionated of the pair, never hesitating to loudly share his thoughts with us, while Mr. Fischoeder is generally content to let his brother do the talking. The darling fellows were adopted in October but unfortunately found themselves back at Tree House due to no fault of their own. Such sweet little guys weren't destined to be on the adoption floor for long, though, and after being back at Bucktown for a mere two days, they found a wonderful new home! A gentleman looking for a young kitty of his own had visited both Tree House branches a few times, taking in all the possible options and weighing the benefits of a bonded pair versus a single kitten. When he met the darling Bob's Burgers boys he knew he'd found his match! Gene and Mr. Fischoeder can't wait to snuggle up with their new dad and help him beat Final Fantasy XV. Best wishes to the new family!
Also adopted in the past two weeks: Pretty Willie, Debbi Peterson, Marlon Jackson, Marsha P Johnson, Tequila Sunrise, Runty Rambo & Cocoa Cupcake, Baby Forrest, Tough Guy & Jasper Jr., Tiny Bean & Iggy Kermit, Garbanzo Bean, Lil Niagara, Nelson Muntz & Reverend Lovejoy, Lexington Popple, Jumping Bean & Rain Spice, Possum Spice & Hanks Darkholme, Bings Bingo, Cyon
Posted by Kayla M.