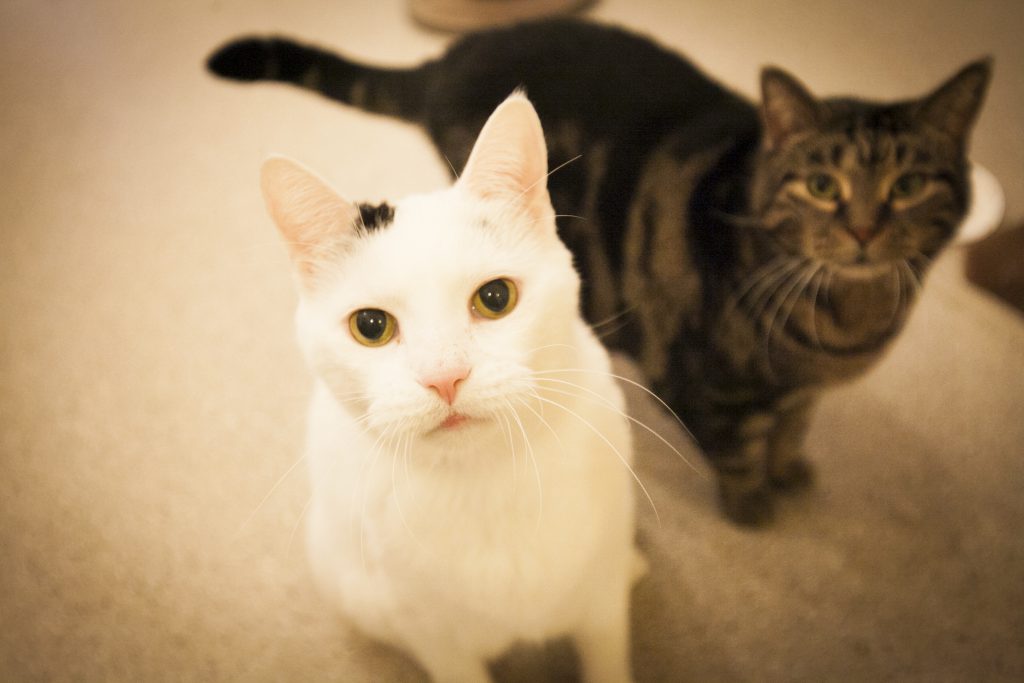 Oh, the weather outside is frightful… but these recently adopted cats are warm and delightful inside their new homes!
In case you missed it, in last week's Adoption Tails we focused on our recent Bucktown adoptions. Our Bucktown branch was consolidated into our Uptown location earlier this week, and we are in process of moving over our Bucktown kitties. Right before they were scheduled to move, Fluff (the tabby cat) and Jairis (the white cat) were adopted! Here is their story:
Fluff and Jairis have been a fixture at the Bucktown Branch for longer than Tree House has been at 1629 N. Ashland! The mother and son duo were part of the Furry Friends shelter; when Tree House acquired the building, we also took all the cats. Jairis was adopted on many occasions, but returned due to no fault of his own. It was at that point that we that we realized that sweet Jairis needed his mom, Fluff, by his side. In 2009, the pair finally found a home of their very own, however unforeseen life changes forced the owner to return the pair to Tree House last winter.
Fluff is the most delightfully well-mannered and adorably round cat that you will ever meet! Like most mothers, she has unlimited patience for her son. It's not uncommon to see Fluff grooming Jairis or allowing him to snuggle with her on her window-sill perch or on top of the cat cage. Fluff's infinite patience only extends to her son; she doesn't tolerate other cats, except on the rare occasion that a well behaved cat is allowed into her fold. Fluff is more reserved than Jairis, she doesn't actively seek out humans, but has never turned down pets to her super soft marbly tabby coat!
Jairis cannot get enough attention from humans! He's the resident greeter to the adoption center. He enjoys hanging out on the rug waiting to welcome visitors with his tiny kitten-like meow that doesn't fit with his large frame and huge purrsonality! If no one is around to give him pets and attention, Jairis has the most unique guttural meow that sounds like a human gargling. Jairis has a voracious appetite for treats! He will eat them out of your hand like a goat at the petting zoo! For the most part, Jairis gets along well with the other cats, but when it comes down to it, he really just enjoys hanging out with his mom. He knows that she will always let him be the star.
Over the past year, it remained a mystery why Fluff and Jairis lingered on the adoption floor! They're the best combination of cats: Jairis is happy go lucky and so affectionate, while Fluff is the nicest cat that you'll ever encounter. The robust duo is in perfect health for cats their age, as well.
A Tree House staffer knew that Fluff and Jairis were the purrfect cats for her parents, who had recently lost their feline friend and were in the market for dog friendly kitties. Jairis is basically a dog trapped in a cats body and Mama Fluff is tough and smart enough to hold her own with any animal! She's the master at finding a comfy spot away from the action to relax.
It took a while for everything to line up and finally the day arrived: Fluff and Jairis found a home of their own. We are so excited that our Bucktown mascots finally found their forever home just in time for the holidays!
Also adopted in the past week: Capybara Spice & Kidney Bean, Hope Quest, Peace Quest, Susan B. Anthony, Raven Darkholme & Harmony Quest, Snooker, Peppermint Stein, Greg Graffin, Poppy Spice & Nutmeg Spice, Andy Taylor & Sammy Mystique, Chiminey & Charoo
Posted by Kayla M. (and thank you to Michelle M. for her wonderful write-up on Fluff and Jairis!)