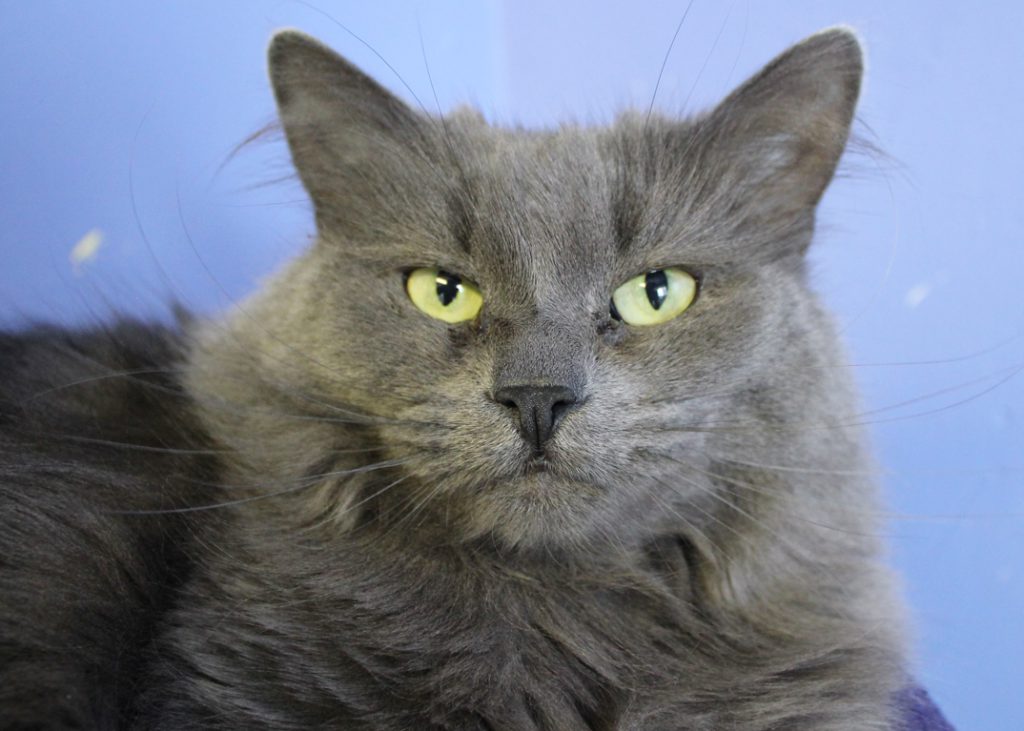 Spring is right around the corner… we can feel it. (Despite the cold and snowy day we're having in Chicago!). With this spring feeling comes the promise of warmer days to come. We think that the cats can feel it too; they're all ready to March on outta here and into their forever homes!
We ended the month of February with some wonderful adoptions, and started March with the adoption of a true "sailor cat"! Here are their adoption stories:
Gary Shandling is a gorgeous, misunderstood kitty… and her name is just a bit misleading! Gary has a fluffy and sweet exterior (see photo above), but on the inside, she is nervous and takes some time to warm up to people. We can see why she is a little stressed – she's been through quite a few changes in her short lifetime of 4 years! She spent some time in a traditional shelter before coming to our Bucktown branch in June 2016, and then moved to our Uptown location into her own condo room (fancy!). After she seemed comfortable with her new surroundings, we let her out of her own room into our Palm young adult room. Since we found that Gary Shandling became overstimulated very easily, we knew that she needed a gentle and understanding adopter that was willing to give her space and patience. She found the perfect couple that absolutely fell in love with her, and is undoubtedly "ruling the roost" of her new home. Hooray for new beginnings, Gary!
St. Purrtrick is a sweet purr monster that charmed staffers, volunteers, and potential adopters with his dreamy eyed look during his time here at Tree House. This whimsical and rascally kitty came to us in November 2016 after being found roaming the streets in the suburbs! But the outdoor life was no life for this handsome guy, he truly wanted (and needed!) to hang out with humans for the rest of his days to come. Unfortunately, he had to spend over two months in isolation due to an infection; when he was eventually released back to our adoption floor, it was clear that he missed all of the attention from his human friends! Shortly after he returned, he was adopted and we have no doubt that he is giving some of his sweet, loud purrs as we speak. Yay, St. Purrtrick!
"I yam what I yam," says Popeye, and what he "yam" is a sweet and loving cat! He has definitely eaten his spinach, so to speak. He is a big boy, but his tough exterior is nothing like his personality – he would not hesitate to flop over on his back and expose his belly for pets during his time here in our FIV+ colony room, and he was a star Animal-Assisted Therapy kitty. He was trapped in the Roseland area of Chicago, and we don't know much about his past. But we do know that his future is bright; with such a loving personality, he was adopted in only 9 days of being here! When a past Tree House adopter came in to meet a new furry friend, Popeye was a standout favorite. Congrats to Popeye and his adopter on making their match!
Also adopted in the past week: Dessa Darling, Clementine Pennyfeather, Vicky Peterson, Bucatini & Chicago Style, Prince Gray, Spooky Jane & Johnny Boy
Posted by Kayla M.