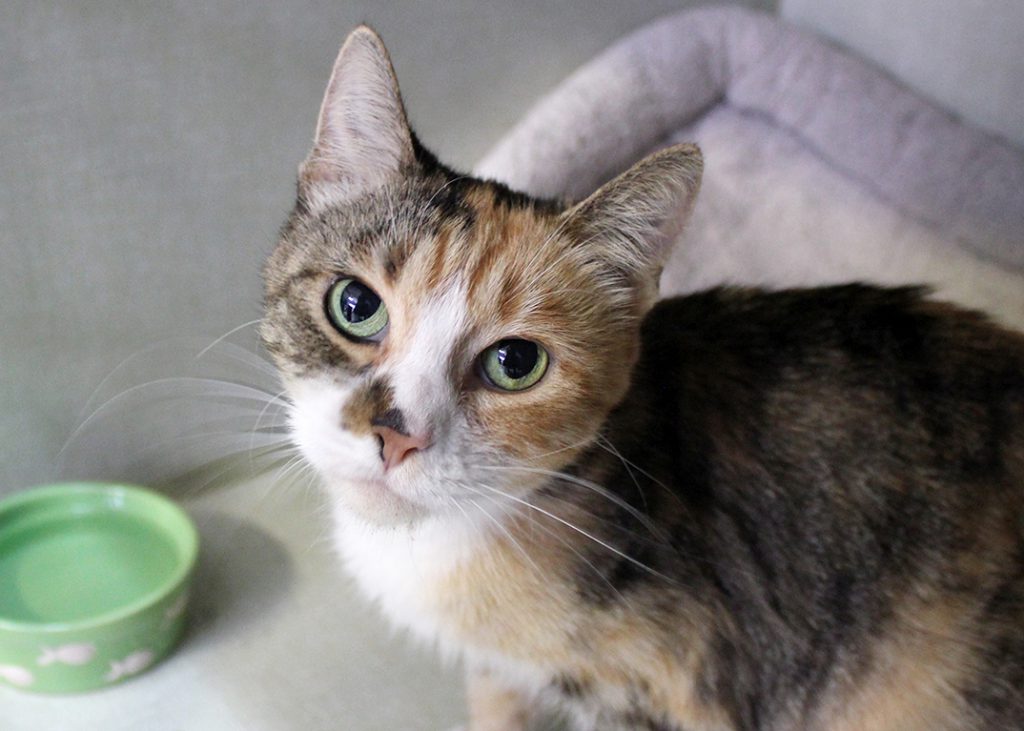 In honor of St. Patrick's Day, we wanted to highlight a very lucky Tree House cat named Ororo Monroe (pictured above)!
This gorgeous kitty came to us in September 2016; she was found outside with a litter of kittens (Tree House adopted kittens named Luke Cage, Pietro Maximoff, and T'Challa!), and was rescued by our staff. After living in a foster home for about 2 months, she came to live with us at Tree House – healthy and happy. With sweet eyes as green as a four-leaf clover, she had plenty of admirers! She was adopted from us in November 2016 and was unfortunately returned, at no fault of her own, in February 2017. Since she is a kitty that loves human attention, but also easily gets extremely overstimulated, it was clear that she needed a patient adopter that understands her unique personality. Additionally, we weren't sure that Ororo was a fan of other cats – for this reason, it was best for her to find an adopter that had a quiet, solo home. Despite some special considerations for her behavior, this little lady didn't spend too much time back here on the adoption floor. When a young gentleman came in to find a buddy that was playful and didn't mind being on their own (in terms of other pets in the home), Ororo stood out as the resounding favorite. We're so lucky to have known her during her time here at Tree House, and she's even luckier that she has found her forever home… or should we say – her adopter is so lucky to have found her! 🙂
Also adopted in the past week: Edna Krabappel, Montgomery Jack, Norman Fisher, The Man In Black, Pomplamoose
Posted by Kayla M.