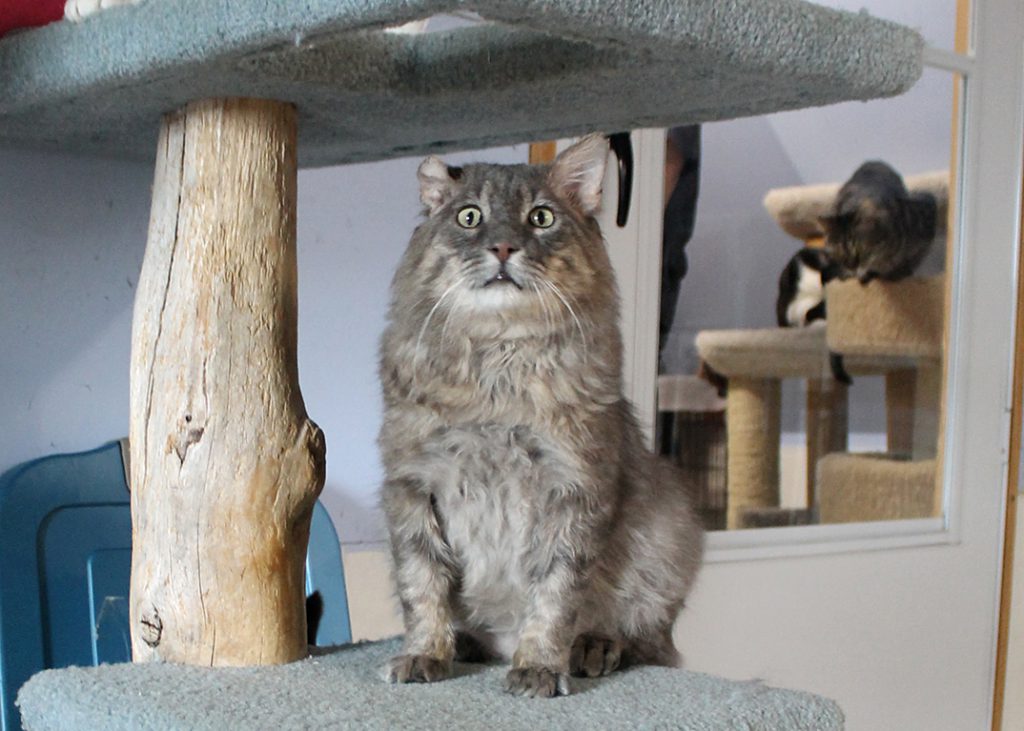 The end of the year and the beginning of the "mew" year have been a flurry of adoptions, including many of our long-time and special needs residents! We ended 2016 with 1,048 adoptions, and couldn't be more excited about all of the cats that found new homes. Here's to 2017, and finding even more kitties their forever homes!
All adoptions are exciting, but they are especially exciting when some of our long-term and special needs cats are involved! Here are the "tails" of some of our recent adoptions:
James Baldwin is a butter-yellow, long-legged teddy bear that charmed everyone that met him! He is very laid back, calm, and openly welcoming of soft petting and head scratches while he's lazing around. Perfectly imperfect, Baldwin has fused toes, tests positive for Feline Leukemia, as well as Feline Immunodeficiency Virus. A family came in to adopt a cuddly cat for their young son, and looked past his special needs. It was apparent that James won them over right away. We are so happy for this sweet boy, and for his new family!
Paddington Bear (pictured above) is a regal and handsome (and goofy!) kitty who came to Tree House in March 2016, after being found outside. Paddy Bear (as his foster called him) is a super sweet, mellow boy who loves being around people, and didn't mind being around the other cats in our Sycamore FIV+ colony room. Throughout his time here, he had a few issues with his diet and diabetes, but he never let that get him down. With a short tail and funny ears (as a result of his time spent outdoors), Paddington was a staff/volunteer/adopter favorite, and he quickly charmed two former Tree House adopters that visited to find a companion for their cat at home. Cheers to Paddy and his new family!
We ended the year on a high note with the adoption of miss Tammy! Tammy has had a long road to get here: she was originally rescued from the euthanasia list at a traditional shelter by a veterinary clinic in December 2015, and she was found to have rather severe stomatitis (inflammation of the mouth). Also, an x-ray showed that she had an actual pellet embedded in her shoulder! Luckily, the vet clinic staff was able to nurse her back to health and provide the attention and treatment she needed. All throughout her treatments, this sweet squishy-faced lady kept her spirits up, and to this day still wants most to sit on laps and snuggle with a person. She found just that person when he came into meet some adoptable kitties, and we wish her the best in her new home!
We started 2017 with the adoption of sweet, misunderstood Gitana, who had been with us since February 2011! She originally came to us after being found on the street; it was suspected that she got left behind after her elderly guardian died. Gitana came in very sweet-natured, but she became increasingly stressed out throughout her time at Tree House. She can sometimes become frightened with sudden movements from humans, and in the presence of other cats, so she required a very calm adopter that truly understands cat behavior. Beyond her personality quirks, she is also on a special diet. An adopter came into visit our kitties, and had quite the wonderful list of special needs cats. But after thinking on it, Gitana was her pick. We couldn't be more thrilled for this sweet lady!
And last, but not least… Picklehead & Little John! If you have ever visited Tree House, you likely met this duo of orange boys. Picklehead and Little John were admitted to Tree House in early May of 2015 through the TNR department after being pulled from a severe hoarding situation. Both of them had various medical issues that also required them to be on special diets, and their personalities were somewhat of a mismatch – Picklehead was outgoing and loved to cuddle even with strangers, and Little John took a bit more time to get used to being with a new friend. Picklehead was adopted twice and returned because he was extremely shy in the homes, and we had a hunch that he may have been missing his buddy Little John. When a pair of adopters came in to meet our kitties, they were smitten by the duo, and couldn't imagine separating the two of them. Although we will miss their familiar faces, we are so thankful that these two have found a home – all of the best to their new family!
Also adopted in the past few weeks: Olizia Thornberry, Bishop House, Ruth Bader Ginsburg, Morgan Spice, Miss Demeanor, TJ the Untrappable, The Great Pumpkin, Marana Spice & Taylor Spice, Refried Bean & Pinto Bean, Misty, Whisker Richard, Faux Fur & Pax Max, Henry Danger & Bianca Rio & Jack Dawson, Wax Bean & Fava Bean, Burberry, Doozy McDuff, Unique New York, Wendy Davis, Mac & Kim Possible, Cheesie, Herman Bear, Rufio, Here's Johnny & The Shining, Hemingway the Chinchilla, Groot, Misty May, Beschert, Boots the Cat, Tranquility Quest & Serenity Quest, Cylon & Sandra Day O'Connor
Posted by Kayla M.