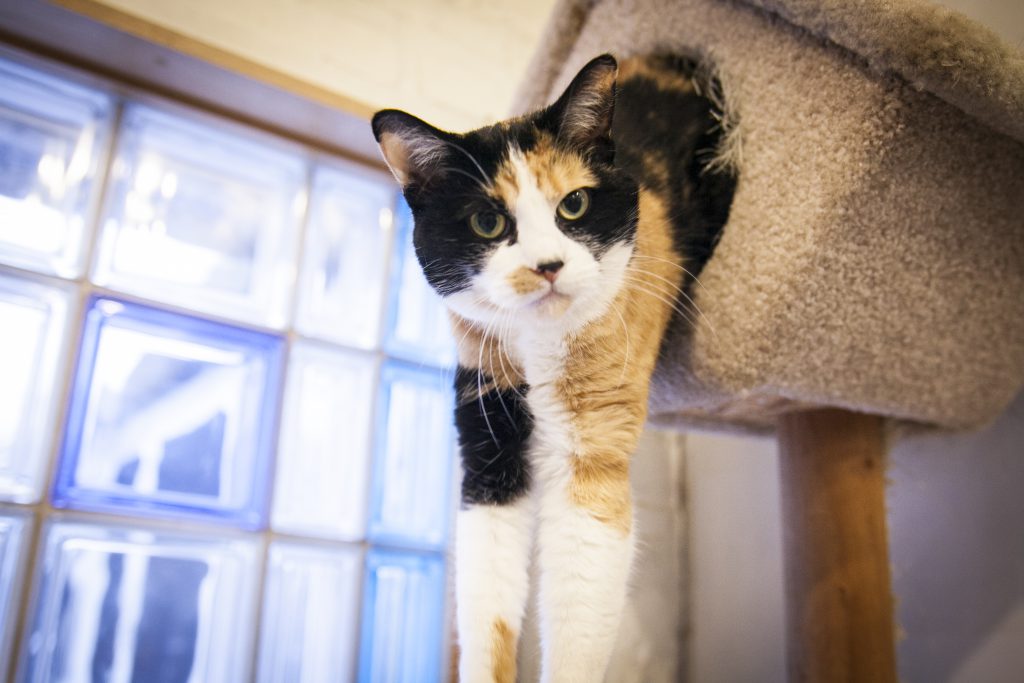 Much like the city in Italy, Brindisi is beautiful – but her story doesn't just stop there! This sassy girl has quite the history. She originally came to Tree House in March 2007 as a tiny little kitten, along with her littermates Bari & Stromboli (also named after cities in Italy!).
Beautiful Brindisi was adopted in June 2007 to a home with another cat, but when she was returned – due to changes in the adopter's home – in June 2016, we quickly found that she wasn't very fond of other felines. She originally lived in our Maple colony room with other adult kitties, but she was easily stressed out and always a little nervous around these cats. We needed to figure out how to make this girl the center of attention; as an "alpha female", this is her preferred state of being!
She then moved to her own condo at our Bucktown location and when that location closed, she moved back to Uptown into another room of her own! Brindisi showed us that she prefers to be the only cat around; without the presence of other kitties, she transformed into a cuddly, lap-sitting, sweetheart. We also found that Brindisi has hematuria (which is the presence of blood in urine). When Brindisi goes through major life changes, she gets a little stressed and the hematuria flares up, which also leads to some litter box problems. A peaceful, quiet, home is truly what Brindisi needed in order to make her feel calm and safe.
Brindisi also needed a confident, patient adopter that understands cats' unique body language and personality. Luckily, she found just that! An adopter came to us that was very open to lots of different kitties, and a lot of our cats with special behavioral needs. After meeting this bold beauty, the adopter was certain that she was "the one." We're so excited that she is going to a home where she can be the queen! We wish many years of happiness to Brindisi and her adopter.
Also adopted in the past week: Redrum & Angelico Mojic, Chance the Catter & Lucky Cat, Bo Diddly, Timmy Sanzo, Anuk Su Namun, Lola Zola
Posted by Kayla M.