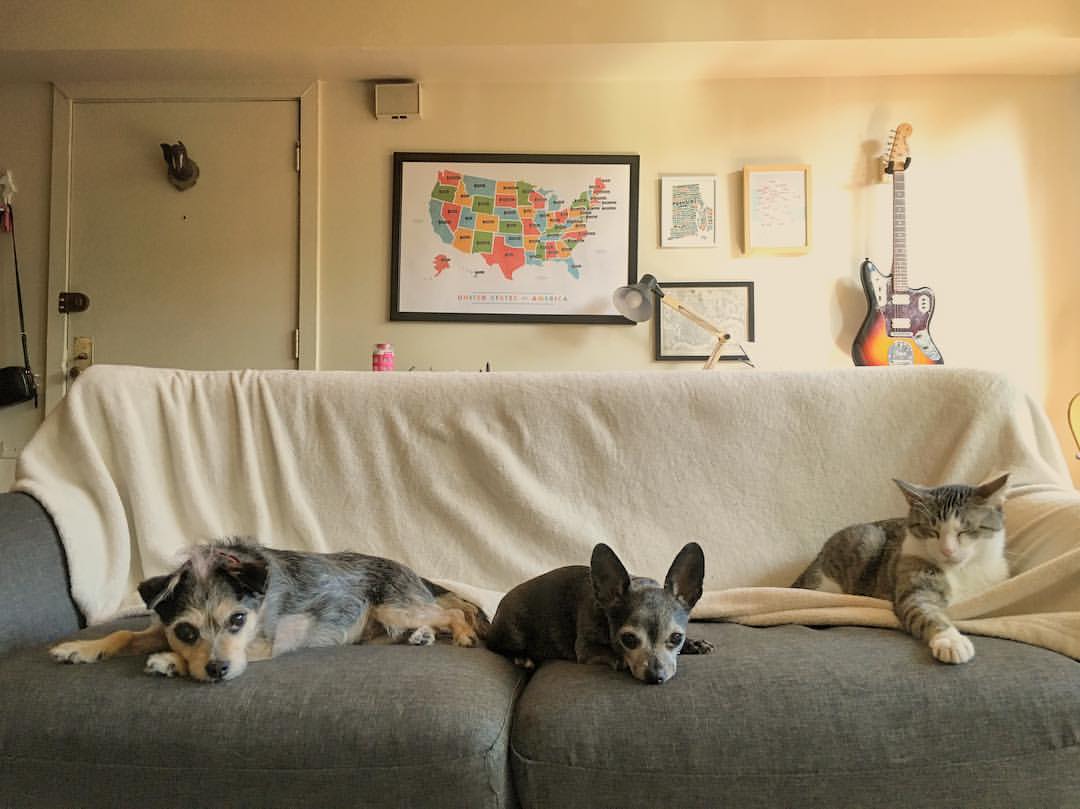 Tree House's mission is to focus on the inherent value of every animal, to care for stray cats with special physical and emotional needs, and to educate the public about humane treatment of animals. This means that many cats come into our shelter that need special love, understanding, and extra financial responsibility. These cats spend a little more time here at Tree House. When they find a home, it is an extra special adoption.
Raccoon Boy is a handsome, cuddle cat that loves naps, paperwork, and watching the clinic do their job. He has some eye issues that causes him to not see super well, therefore he liked to stay in the clinic. It makes complete sense that our Clinic Supervisor ended up falling in love with him and taking him home this week. Raccoon Boy (RB) now lives with his two new doggy roommates Brilla and Mouse and seems to fit in just fine!
Obie is a sweet boy that was found, fostered, and admitted by a good samaritan. He loves sunspots and has a knack for finding them before anyone else! He is gentle and loves pets. When he got here, it was discovered that he has a heart murmur. While this is certainly something he can live with, it can often be a costly expense. A lovely adopter decided to make that leap of faith for this dapper gentleman. He will surely have all of the sunspots all to himself in his new home!
Last but certainly not least is our delightful Baumwoelle! He spent a few weeks here on our first floor, but gave us a scare when he seemed to be experiencing heavy breathing last week. After going to the emergency room, it was discovered that he has congestive heart failure and therefore his life expectancy is 12-18 months. This delightful little man will thankfully have a calm, loving environment to live in thanks to one of our amazing staffers who agreed to give him a home.
Thanks to all of the amazing, selfless people that give homes to these special cats that otherwise are overlooked. Without you, the lives of these amazing creatures wouldn't be nearly as wonderful.
Also adopted this week; Jochebed, Donna Michelle, Twilight Sparkle & Encintas, Obie, Amus, Little Squirt & Mama Fanta, Bruno Amsterdam, Nicco Afton, Rainbow Dash, Ma Beagle, Mowgli, Bauhaus, Raccoon Boy, Thomas O' Malley, Ombro and Ottenson, Jenga Penga, Mandy Hampton, Jason Paul, Yani, Baumvolle.

Posted by Danielle C.