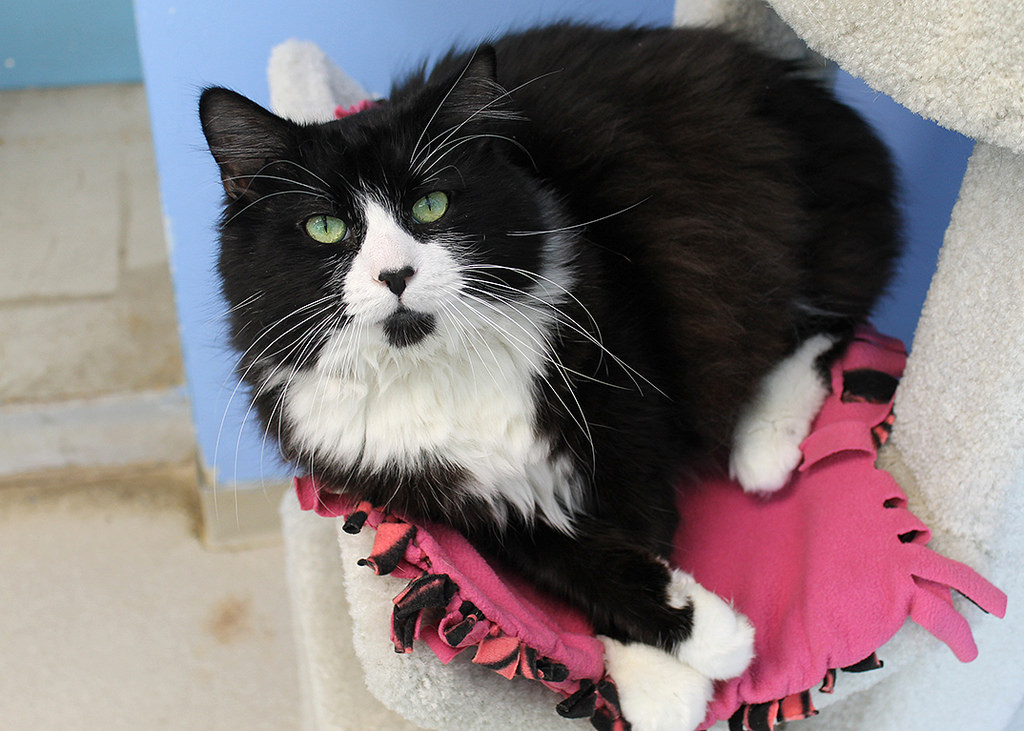 This week an amazing event took place across the nation called Clear the Shelters. Nearly 700 shelters participated in this effort to find thousands of animals homes. Tree House Humane Society also participated and sixteen cats found their forever homes.
Roman Polanski is a handsome boy that spent way too long here at Tree House. We all wondered how he didn't leave the floor as soon as he got here, but sometimes it is all in the timing. Roman Polanski loves attention and was often the first cat to greet you when you entered his colony, unless he was sunbathing of course. Roman Polanski was found by our Community Cats Department. He was hanging out outside, but he had FIV so we quickly took him in. A family with a young girl came into meet our cats on Clear the Shelters day and fell in love with him. The little girl told us that she had been awake since 6am waiting to come get a kitty! What a perfect kitty she found!
Olaf is another cat that mysteriously spent quite a bit of time here. He originally came in with his mom Queen Elsa. At that time, they were considered a bonded pair. Since being here Queen Elsa has taken a different train of thought and decided that it is time Olaf goes out on his own. She now prefers to be the only cat in the household and Olaf would pretty much be great anywhere. Olaf went home with a lovely lady looking for a companion to keep her company! This sweet guy will certainly do that!
Jon Snow is a silly kitten with crazy whiskers and a permanent alarmed look on his little face. He eats with his whole face in the pile of food and often comes out of dinner time with quite a mess to clean up. He is fluffy and black and white and the cutest of the cuteness. He went home with a buddy, Prince Lunar! With Jon Snow's easy attitude and love of the leisurely life he will certainly be very good friends with his new roommates!
Javert (pictured above) a big, cute ball of fluff and love! This pretty boy is the opitomy of long haired cat. He is big with lots of beautiful black and white fur. He loves sunbathing like a king and taunting people to come pet him by simply looking handsome. Javert came from Chicago Animal Care and Control in April and has been here ever since. His time has certainly come for laps, love, and sunspots.
Also adopted this week; January Jean, Rooks, Applejack Stack, Rarity, Abbey Bartlett, Grayling, CJ Cregg, Matoutou, Sarge Thalia, The Changeling, Kiro, Flutters Lunar, Kite Runner, Daenerys Targargen, Rhaegar Targargen, Wilhemina, Jerome, Dillon Francis, Mr. Langston, Averen, Midnight Moon, Cookie Crisp, Shizzle, Little Cuddles & Little Chico, Jouckis, Pasadena, Oakland, Lovely, Encinitas, Chizzle, New Hampshire, North Dakota, Rhode Island, Gigli, Anaheim, Merman, Antwerp, Charm Quark, Strange Quark, Captain Kirk, Roycroft, The Terminator, and John Connor.
Posted by Danielle C.