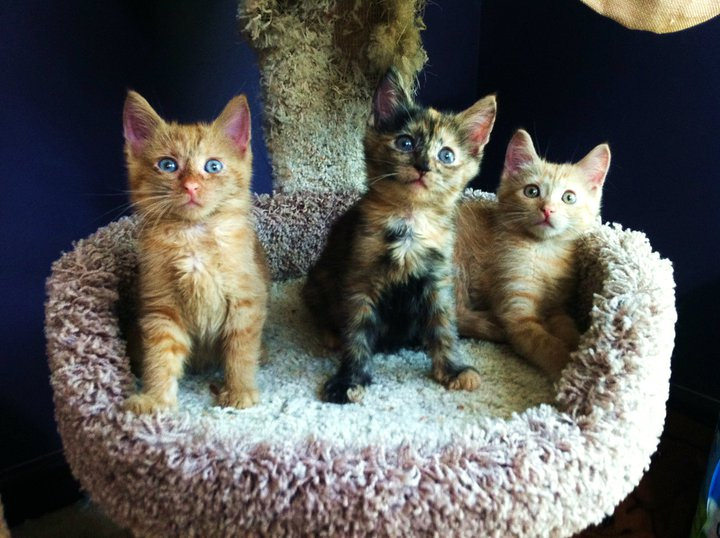 Although there may have been a shortage on kittens early in the Spring there certainly is not anymore! The kitten room is an exciting place to be these days and so many energetic little nuggets are quickly making their way home!
Although we adore each and every one of the kittens, it is so hard to keep them straight! While we would love to talk about all their fabulous qualities, I am going to take this time to talk about kittens.
First and foremost, kittens have tons of energy. Not only do they need to play a lot, but they need playtime with kittens. Have you ever seen kittens tackling each other and piling up on each other? They are practicing their hunting skills. This is something very normal to do. In fact, it is necessary. Without that playtime, cats get what we call single kitten syndrome. Typically, this looks like a cat hiding behind the couch and attacking your feet as you walk by. While this is super cute when they are kittens, it doesn't tend to be so cute when they are adult cats.
In addition to all of these super cute, playful kittens going home, Mona Moo Moo also made her way home this week! Mona Moo Moo came to Tree House through CACC. After a period of being fostered by one of our fabulous fosters, Mona Moo Moo came to stay in our Palm Colony. She didn't seem to mind her new place so much. While she didn't mind the other cats, she did prefer to watch them and not engage. She always had a perfect view from her cat tree. An adopter came in this week who had already been reading about Mona Moo Moo on our website. She is going home to another feline roommate who also prefers to sit and watch the world go by. We agree that this will be a perfect home for Mona Moo Moo!
Nigel also made it home this week with a lovely adopter who had adopted from us previously. After losing her Tree House cat a few months ago, she couldn't take being without a feline friend any longer. Nigel is an incredibly laid back dude that loves laps! He will certainly be happy with his new human companion who has missed the companionship of a feline friend.
Also adopted: Tangelo, Golden Nugget, Bodean, Cylon & Sandra Day O' Connor, Mariame, Cithrin, Harosets, Deputy Andy Broom, Frangelina, Big n' Tall & TJ Maxx, Leila, Miss Hanks, Ibramia Moizoor & Dress Barn, Marshall's, and Sagglfarrut Jefferspin.
Posted by Danielle C.