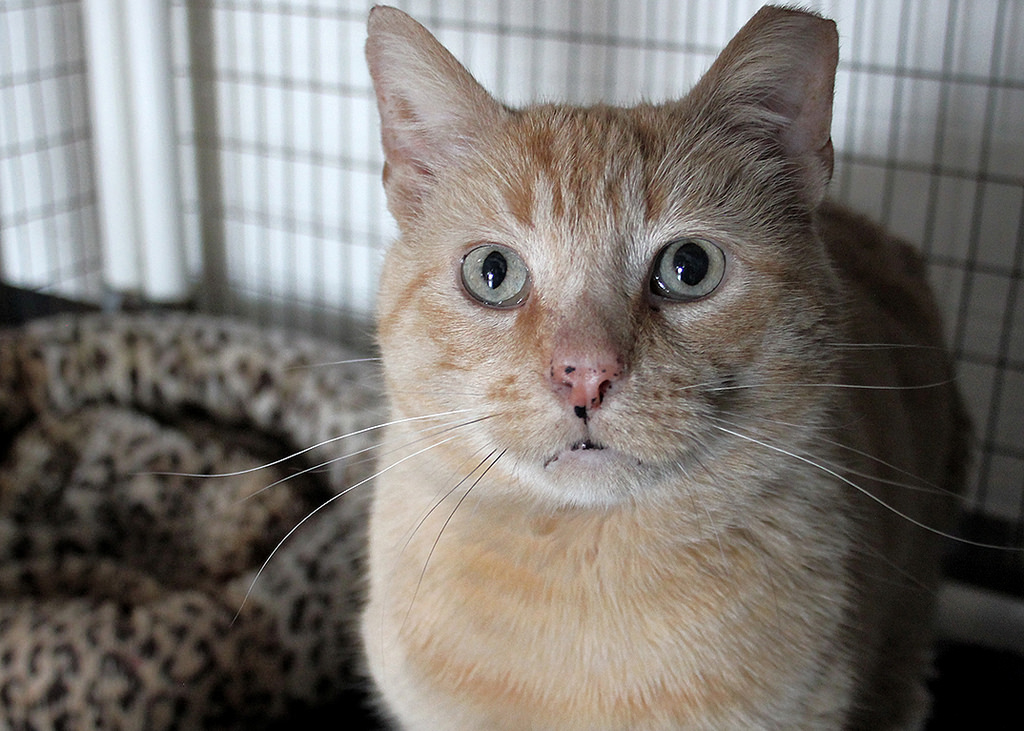 We have had so many amazing cats go home in the past couple weeks and we are thrilled to share with all of you! We still have plenty of orange and black kitties that are part of our Orange is the New Black promotion waiting to find a home.
Lady Stardust, a cat on our FIV+ floor, lives up to her name! A lady that demands and deserves all of the attention she wants, will greet you at the door, head butt your legs, and make a nest on your lap. While she preferred an adopter all to herself, she would sometimes allow another feline frenemy in her general vicinity, but mostly her space was her own. We are so happy that Lady found her home!
Birch Beer (pictured above) was also a resident orange tabby cat on our FIV+ floor. He was a star Animal Assisted Therapy cat who loves laps and sunspots! His sweet face is enough to draw in any cat lover. Birch Beer was found by our Community Cats Department. He found his way home with a lovely adopter this week. We hope you have laps galore for life!
Las Vegas clearly has his eyes set on the prize! He is a window lounger and a daydreamer. A loving home is clearly where he belongs. He loves vertical space, especially if it is by a window. While he didn't seem to mind sharing his space with some roommates, a home all his own is clearly his preference. Las Vegas originally came to Tree House through our Community Cats Program. A very excited adopter came in this week to adopt a companion and even stayed late since we were so busy! Las Vegas will clearly get the home he needs!
Skippy is a handsome grey and white gentleman with a love for lounging in cat trees and getting head pets. Unfortunately this sweet charmer was adopted twice and brought back twice both from no fault of his own. He made friends with his fellow Tree House friends very easily. A family came in who had previously adopted two other Tree House cats and they felt that one of their youngest needed a buddy. After spending time with many of our residents, they fell in love with Skippy. We have no doubts that he will have a lovely home with these star adopters!
Janine Melnitz is what we call a perma-kitten. She is tiny, black, and has little white toes on her back paws. Clearly she got herself a pedicure before making her way to Tree House. Janine was found outside by our Community Cats Department. She was way too friendly to be a feral kitty, so she came to Tree House Uptown. She is a very playful cat and made many friends in the shelter. She would often play a little too hard for some of her fellow roommates here, but she should hit her stride and made some friends. We are so happy that Janine has found a home!
Also adopted this week; Baci & Blanca, Auklet, Squints, Kander, Cloud Kit, Shakira TGIF Carter, Prymiate Evergreen, Shelly Belly, Mrs. Key, Missouri, Bugabooboo, Sambeck, Tomas, Penn Lockhart & Nemo Nobdy, Bobbi Brown, Bippy & Puerto Rico, Flume, Black Jack, Kansas & Delaware, Minnesota, Lilliflora, Caramel Turtle, Radagast, Shady Shin, Mojave G'Day, Bonju, Chateau & Coeur d' Alene, Maid in Manhatten & Money Train, West Virginia & Mississippi, Tangerang, J. Pharaoh & Zamata, Frank Fletcher & Grady Fletcher, Concertina, Deputy Dewey, Drizzle, Bella Button & On the 6th, San Bernadino & Sarge Thalia, and Anaconda.
Posted by Danielle C.