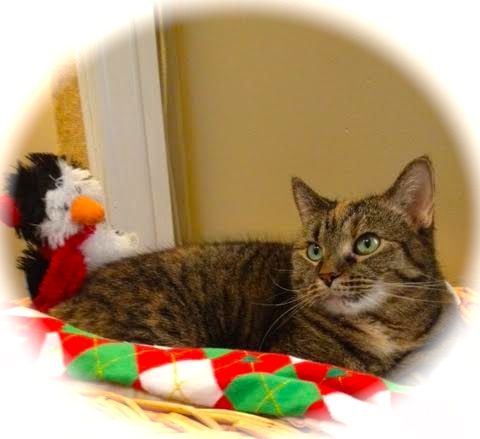 Shimmy is a very wise cat who loves to give advice! She's been a resident of Tree House since 2006. Over the years, she's picked up lots of sage advice from the adoptions staff.  Every month, she'll tackle another common cat owner issue. Shimmy currently resides at our Bucktown Branch and adores having  visitors. If you have a question for her or are in the market for a fun and smart kitty, she would be thrilled to meet you!
Dear Shimmy,
My humans love celebrating the holidays. They start with Thanksgiving and don't stop until after New Year's. I find them to be very stressful. There's always strange people in our home, there's very strong smells of food, cups of stinky liquids, a giant green tree in the living room that seems perfect for climbing, weird red plants covered in glitter, boxes wrapped up, so I can't play inside them, and the strange humans want to pet  and hold me. It's honestly my worst nightmare; I fear I'll end up spending the next month underneath the bed.
Bah Humbug in Berwyn.
Dear Bah Humbug in Berwyn,
You are not alone in your holiday stress. I receive many letters from cats that have similar issues and I have some advice to help you survive the holidays. Please leave this out where your human will see this.
O Christmas Tree, O Christmas Tree
I completely understand why the Christmas tree is so tempting! It's like a big cat tree and scratcher, all rolled into one! I do have some tips for your humans to make the tree less of a hazard.
If you must have a real tree, make sure that the water reservoir is inaccessible to the kitties. Aside from creating a mess if knocked over, stagnant water can grow bacteria or might contain fertilizers which can lead to a sick cat. Make sure you choose a high water reservoir and cover it with aluminum foil.
Before you decorate the tree with ornaments, give your cat some time to get used to the big tree in the room. You can create a barricade, (so the cat can't get under the tree and climb it) with baby gates or a playpen. If this isn't an option, put aluminum foil  or double sided tape around the base of the tree stand. Cats hate the feeling of foil on their claws and will start to associate the tree as being bad.
Choose an area of the room for the tree that is free of cat launching pads (arm of the couch, a bookshelf, the mantle, etc.)  to the tree. You might even want to consider tethering the tree to the wall or ceiling with fishing wire.
Make sure you put the fragile, breakable ornaments at the top of the tree where it's less accessible to the cat. Avoid putting edible ornaments (like strings of popcorn and cranberries and candy canes) at the bottom of the tree.
Cats love to chew on electrical cords, especially on the bright twinkling lights. Make sure you unplug the lights when you're not at home and inspect the wires to make sure your cat hasn't chewed on them. Consider using Bitter Apple, a nontoxic product that cats don't like the taste of, on the electrical cords. Dish soap works, as well.
Avoid using tinsel on the tree. Tinsel is so very shiny and attractive to cats, but very dangerous to cats. When swallowed, it leads to intestinal obstructions and choking.
If you like to collect Snowbabies or a festive Christmas village, I'd recommend finding a safe spot that your cat won't go near- on top of a high bookshelf or cabinet.
Keep the presents in a closet until you're ready for the big gift exchange. This cuts down on the temptation of playing with the sparkly bows, ribbon and wrapping paper.
Have a Holly, Jolly Christmas
In addition to the Christmas Tree, there's a lot of plants that can make a home festive for the holidays, but also very hazardous to cats! That red plant with the glitter on it, is a Poinsettia, stay clear of that one! Other poisonous plants include Holly, Mistletoe, Christmas Cactus, Amaryllis, Lillies and even some types of Christmas trees (Fir, Australian, Norfolk, Norfolk Island Pine).  Ingestion of these plants can lead to vomiting, diarrhea, convulsions, low blood pressure, drooling or in severe circumstances death. If you must have these plants, keep them in a very hard to reach spot or even consider an artificial variety.
Festive foods and parties are abundant over the holidays. If you're having a large group of people over,  it is important to get your cat set up with their own little room complete with a comfy spot for lounging, cat food, and litter. This key to a successful gathering! This is especially important if your cat is a little on the shy side and is frightened easily by loud noises and large groups of people. By keeping your cat in their own area, you also eliminate the need to worry about your cat getting into a vat of eggnog, gnawing on a turkey bone, enjoying grandma's stuffing that might contain garlic or onions, having a glass of Uncle Rick's home brew, or helping themselves to delectable cookies and cakes. Human food is never a good idea for cats, but these are especially harmful to your cat. You don't want to spend New Year's Eve at the emergency vet. If you want to give your cat a special treat, Merrick makes a lovely Thanksgiving Dinner or Surf and Turf wet foods that are yummy and cat friendly!
Bah Humbug in Berwyn, I wish you and your family a very happy and safe holiday season! Hang in there! The holidays will soon be over and you'll have plenty of couch time and Netflix to fill the winter months.
XOXO,
Shimmy
Dictated by Shimmy to Michelle M.